WW1 Cigarette Cards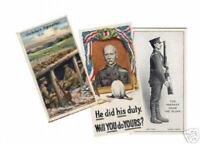 ---
A combination of rapid technological and social changes at the beginning of the 20th century created a tinderbox in Europe. As Gavrilo Princip assassinated Archduke Franz Ferdinand he also triggered the start of one of the most destructive wars ever, WWI.
Cigarette cards were adept at mirroring the interests and moods of ordinary people as the 20th century unfolded. As attention turned to The Great War, tobacco manufacturers were quick to issue sets of cigarette cards on every aspect: weapons, battlefield techniques, propaganda posters, first aid, physical training and the glorification of war heroes.
I've listed a small selection of World War One cigarette cards and provided scans of a sample card from each set and a list of the card titles where possible.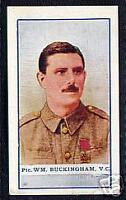 Name Of Set: The Great War - Victoria Cross Heroes, 2nd Series
Manufacturer: Gallaher
Issue Year: 1915
Card Number: 25
Card Titles: Naik Darwan Sing Negi, Private Henry May, Private Ross Tollerton, Private Geo. Wilson, Lance-Corporal WM. Fuller, The Late Captain H.S. Ranken, Sergeant-Major Harry M. Daniels, The Late Captain Theo. Wright,Sepoy Khudadad, The Late Private Jacob Rivers, Lieut Cyril G Martin, 2nd-Lieut Geof H Woolley, The Late Corporal Cecil R Noble, The Late 2nd-Lieut WM B Rhodes-Moorhouse, Private Edward Dwyer, Private Wm Buckingham, Lieut-Commander ME Nasmith, Private William Mariner, Lance-Sergt Douglas W Belcher, Lance-Corporal WM Angus, Lance-Corporal LJ Keyworth, The Late Private Edward Warner, Company Sergeant-Major Frederick Barter, Lance-Corporal David Finlay, and The Late Corporal John Ripley.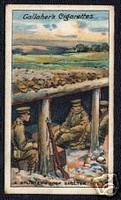 Name Of Set: The Great War Series
Manufacturer: Gallaher
Issue Year: 1915
Card Number: 100
Card Titles: Distinguising Marks On Projectiles / Missiles, A Shrapnel Shell In Section, Ranging Bracketing The Target, Sunlight An Aid To Ranging, Motor Ambulance, Field Telephones, The Black Maria, Indian Mule Transport ,A Field Kitchen, Ranging Bracketing The Target, Dug-Out, Dogs Used To Find Wounded, Transport - Armoured Train, Stretcher Bearers RAMC, Washing-Up, Percussion Shrapnel, Belgian Dog Transport, A Shrapnel Shell Bursting, Armoured Car, Motor Transport Wagons, Shelters Behind The Firing Line, Machine Gun On Aeroplane, Bomb Dropping From Taube, Shipping An Aeroplane, The Clock Code, Silent Death, Hauling A Gun Across A River, Barbed Wire Entanglements, Alarm Signals, Decorations For Valour: The V.C. - Victoria Cross, First Aid Yeomanry Corps, Signalling To Aircraft From Battery, The Mid-Day Meal, Observation From Aircraft, Serchlights Over London, Mud Plough Used By Canadians, A British Airship, Observation From Aircraft, Field Workshop Royal Flying Corps, The Parachute Shell, Indian Having His Hair Coiled, A High-Angle Gun, Laying A Mine, Portable Search Light, Legion of Honour - France, Pontoon Bridge Building,Zeppelin, Spear Planted Ground, Detection of Submarines, Shelter Trenches, Oxen Hauling Servian Artillery, Hyposcope,A British Destroyer, A French Aeroplane, Periscope Field Glasses, Types of Trenches, A Splinter-Proof Shelter, The Order of St. George - Russia, Hand Grenades, Indian Winding Turban, Big Gun On Rail, Zig-Zag Approaches, Sweeping, Types of Trenches, Shelter Trenches, and Bayonet Fighting Two.

Name Of Set: Recruiting Posters
Manufacturer: WD and HO Wills
Issue Year: 1915
Card Number: 12
Card Titles: -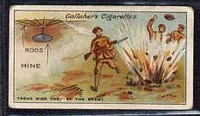 Name Of Set: The Great War Second Series
Manufacturer: Gallaher
Issue Year: 1915
Card Number: 100
Card Titles: Zouave Having Sash Wound, Torpedo Destroyer Tearing up Wire Entanglements With Grapnel, Firing Grapnel to Tear Down Wire Entanglements, Armoured Car Tearing Down Barbed Wire With Grapnel, Method of Landing at the Dardanelles, Range Finder, Bridge Demolition, Testing Gun Carriage, Swimming Horses Across An Unfordable Stream, Life-Saving Raft,Munitions Shell Maker, Rolling Armour Plate, Wire-Winding A Big Gun, Marks To Distinguish Neutral Vessels, Munitions Shell-Making, Poison Gas Mask, Bridge Demolition, Sikh's Special Weapon, Munitions Shell Making, Munitions Shell Making, Distinguishing marks on Allies' Aeroplanes, An Air Bomb, Ear Defenders, Range Finder, Bladed Anti-Aircraft Shell, Munitions, Parachute Shell, Italian Ambulance, Periscope Aiming Apparatus on Rifle, How A Battleship is Armoured, The Lake Submarine, Latest Type of Italian Airship, Scouting Dodges, Dropping Darts From an Aeroplane, Section of a Torpedo, Moving One-Man Fort, Scouting Dodges, Bullet-Proof Wheeled Ambulance, Armlets, Scouting Dodges, Munitions, Bomb- Throwing Catapult, Scouting Dodges, Badges Worn at Back, Aerial Torpedo, Wheeled Infantry Shields, Dress Worn by Troops at Tsing-Tau, Munitions, Dress Worn by Troops at Dardanelles, The Welsh Flash, Trench Mortar, Camel Corps, Liquid Fire Machine, Bomb-Dropping Apparatus, Water Supply at Front Line, Military Captive Baloons, Hardening Gun in Oil, Alpine Regiment Scaling a Cliff, Listening Post For Hostile Aircraft Paris, Men in Swimming Collars, Bridge Building, Barbed Wire Spider, Wireless on Zeppelin, and Enemy's Big Guns.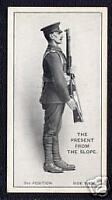 Name Of Set: Infantry Training
Manufacturer: Ogdens
Issue Year: 1915
Card Number: 50
Card Titles: -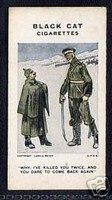 Name Of Set: Raemaekers War Cartoons (Black Cat)
Manufacturer: Carreras
Issue Year: 1916
Card Number: 140
Card Titles: -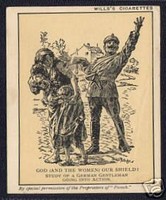 Name Of Set: Punch Cartoons, First Series
Manufacturer: WD and HO Wills
Issue Year: 1916
Card Number: 25
Card Titles: -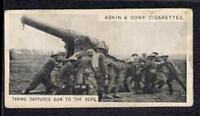 Name Of Set: War Trophies
Manufacturer: Adkin and Sons
Issue Year: 1917
Card Number: 25
Card Titles: German 10cm Field Gun, German 77 mm Field Gun, German 85mm Field-Gun, Taking Captured Gun to the Rare, Captured German Gun, Captured German Guns, Captured German Guns at the Horse Guards' Parade, Krupp Gun Captured at Loos, German Machine Gun and Automatic Rifle, German Machine Guns and Ammunition, Captured Minenwerfer, German Trench Gun, German Trench Mortar, German Trench-Mortar, German Mine-Interior, Captured Mine-Layer UC5, German Naval Mine, Engine of Zeppelin, Engine of Airship, Gondola of Zeppelin, Machine-Gun from Zepplin, Observation Car of Zepelin, Propeller of Zeppelin, Wreck of Zeppelin L33, and Zeppelin Wreckage.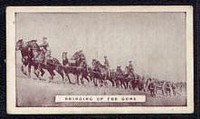 Name Of Set: Britain's Defenders (Mauve Front)
Manufacturer: British American Tobacco
Issue Year: 1914
Card Number: 50
Card Titles: Admiral Sir GEO A Callaghan, Rear Admiral Sir RK Arbuthnot, Major - General Sir JS Cowans, Admiral Sir FC Bridgeman, General Sir WR Birdwood, Steam Chain Track Tractor, Bringing up the Guns, Detachment of Naval Brigade in Action, HM Ging George V At Manoeuvres, Machine Gun Section in Position, Sir WR Robertson, Gen Edmund HH Allenby, Lord Kitchener of Khartoum, Admiral Sir John R Jellicore, Admiral Sir AM Farquhar, Captain JHS Dimmer VC, Flight Sub Lt RAJ Warneford VC, Vice Admiral Sir David Beatty, General Sir HCO Plumer, Vice Admiral Sir FCD Sturdee, Lieut-General Sir BT Mahon, General Sir AJ Murray, Commodore WE Goodenough, Gen Hon Sir AHF Paget, Maj-Gen Sir Chas C Monro, Lieut Gen Sir PHN Lake, Admiral Hon Sir SC Colville, Lieut-Comm Martin E Nasmith VC, Sir GJ Younghusband, Admiral Sir ES Poe, Vice Admiral Sir GE Patey, Lieut-Com ND Holbrook VC, Vice Ad WM B Fisher, Maj-Gen Hon Julian HG Byng, Gen Sir Leslie Rundle,General Sir Ian SM Hamilton,Admiral Sir P Scott,Gen Sir Bruce M Hamilton,General Sir Douglas Haig, Brig-Gen JE Gough VC, Admiral Sir G C Egerton, General Sir Douglas Haig, Vice Admiral Charles E Madden, Gen Sir FR Wingate, Gen Edwin AH Alderson, Viscount French of Ypres, Vice-Admiral Sir GJS Warrender, Rear-Ad Bernard Currey, Maj-Gen Sir PW Chetwode, and Sir HL Smith-Dorrien.