Movie Stars On Cigarette Cards - Silence Is Golden
---
Cigarette cards provide a beautifully illustrated record of perhaps the most significant period in the history of mankind, 1870s-1930s. The cinema was one of the many revolutionary innovations to emerge during this stretch, laying the foundations for modern-day television. Film Star Idols appeared on numerous cigarette cards, from the first silent movies right through to the talkies and early television. It would be impractical to list every film star card set issued and so I've made a small selection from the more unusual and rare movie star cigarette card sets that I've come across in my six years of dealing on eBay. I've provided scans of a sample card from each set and I've tried to list as many card titles as possible.
Selection Of Silent Movie Star Sets
---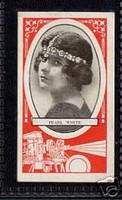 Name Of Set: Cinema Stars
Manufacturer: WD and HO Wills
Issue Year: 1916
Card Number: 25
Film Star Names: Gertrude Robinson, Ethel Barrymore, M'lle Alesia Leon, Jackee Saunders, Carol Halloway, May Allison, Madame Pareva, Queenie Thomas, Florence Reed, Rhea Mitchell, Emily Stevens, Valli Valli, Florence La Badie, Pearl White, Marguerite Snow, Martha Hedman, Beverly Bayne, Anna Nilsson, Lucille Taft, Lily Ward, Mary Miles Minter, Mignon Anderson, Marion and Medeline Fairbanks, Madame Petrova and Marguerite Courtot.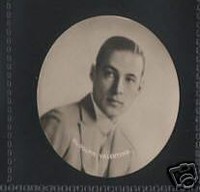 Name Of Set: Cinema Stars (Circular)
Manufacturer: Godfrey Phillips
Issue Year: 1924
Card Number: 25
Film Star Names: Ivy Duke, Harrold Lloyd, Mary Pickford, Clive Brook, Charlie Chaplin, Mary Miles Minter, Betty Compson, Shirley Mason, Lon Chaney, Corinne Griffith, Pauline Frederick, Stewart Rome, Tom Mix, Flora Le Breton, Guy Newall, Constance Talmadge, Ramon Novarro, Henry Edwards, Chrissie White, Norma Talmadge, Hilda Bayley, Pearl White, Rudolph Valentino, Alice Terry and Pola Negri.

Name Of Set: Film and Stage Favourites
Manufacturer: British American Tobacco
Issue Year: 1926
Card Number: 50
Film Star Names: Enid Bennett, Betty Blythe, Eleanor Boardman, Francis X Bushman, Harry Carey, Betty Compson, Mimi Crawford, Viola Dana, Bebe Daniels, Reginald Denny, Billie Dove, Miss Du Pont, Isobel Elsom, Greta Garbo, Hoot Gibson, John Gilbert, Helen Gilliland, Dorothy Gish, Llane Haid, Kenneth Harlan, William S Hart, Jack Holt, Isabel Jeans, Alice Joyce, Buster Keaton, Laura La Plante, Evelyn Laye, Flora Le Breton, Harold Lloyd, Katherine Macdonald, Elsa Macfarlane, Frank Mayo, May Mc Avoy, Adolphe Menjou, Harry Myers, Tom Mix, Antonio Moreno, Pola Negri, Anna Q Nilsson, Eva Novak, Gertrude Olmsted, Eddi Polo, Eileen Sedgwick, Norma Shearer, Constance Talmadge, Norma Talmadge, Alice Terry, Rudolph Valentino, Florence Vidor and Claire Windsor

Name Of Set: Cinema Stars (105-156) (Medium)
Manufacturer: British American Tobacco
Issue Year: 1927
Card Number: 52
Film Star Names: Claire Windsor, Conrad Nagel, Mary Brian, Marie Prevost & Kenneth Harlan, George O'Brien, Norma Shearer, Lucille Le Seur, Greta Nissen, Richard Barthelmess, Marion Davies, Miss Dupont, Marian Nixon, Alma Rubens, Lya Mara, Xenia Desni, Henny Porten, Sandra Milowanoff, Gertrude Olmsted, S. Napierkowska, Tom Mix, Arlette Marchal, Corinne Griffith, Lois Wilson, Mae Marsh, Bessie Love, Ronald Colman, Douglas Fairbanks, Dora Duby, Jean Angelo, Tsuru Aoki, Maria Corda, M. Signoret, Ivan Petrovich, Mae Murray, Dolly Davis, Claude France, Blanche Mehaffey, Mae Busch, Johnny Hines, Mary Pickford, Sessue Hayakawa, Lon Channey, Raquel Meller, Nazimova, Gina Palerme, Lucienne Legrand, Huguette Duflos and Ginette Maddy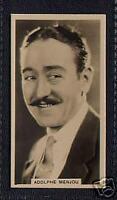 Name Of Set: Paramount Stars
Manufacturer: Carreras
Issue Year: 1929
Card Number: 27
Film Star Names: Bebe Daniels, Evelyn Brent, Fay Wray, Chester Conklin, Gary Cooper, Clive Brook, Jack Holt, George Bancroft, Thomas Meighan, Betty Bronson, Florence Vidor, Clara Bow, James Hall, WC Fields, Neil Hamilton, Adolphe Menjou, Emil Jannings, Charles Rogers, Esther Ralston, Mary Brian, Louise Brooks, Richard Arlen, Raymond Hatton, Ford Sterling, Wallace Beery, Noah Beery and Richard Dix.

Name Of Set: Popular Film Stars (Ovs) (Title in Two Lines)
Manufacturer: Lambert and Butler
Issue Year: 1925
Card Number: 50
Film Star Names: Mae Murray, Barbara La Marr, Mary Pickford, Harold Lloyd, Rudolph Valentino, Doris Kenyon, Alice Terry, Ramon Novarro, Anna Q Nilsson, Laura La Plante, Milton Sills, Jack Holt, Norma Talmadge, Dorothy Gish, Rod La Rocque, Pola Negri, Adophe Jean Menjou, Buster Keaton, Gloria Swanson, Theodore Roberts, Corinne Griffith, Lilian Gish, Richard Dix, Bebe Daniels, Lewis Stone, Constance Talmadge, Charlie Chaplin, Norma Talmadge, Agnes Ayres, Betty Compson, May McAvoy, Gloria Swanson, Tom Mix, Colleen Moore, Rudolph Velentino, Jackie Coogan, Lewis Stone, Leatrice Joy, Anna Q. Nilsson, Ramon Novarro, Adolphe Jean Menjou, May McAvoy, Thomas Meighan, Jackie Coogan, Betty Blythe, Reginald Denny, Douglas Fairbanks, Colleen Moore, Walter Hiers and Richard Barthelmess.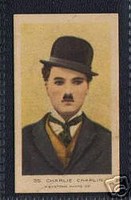 Name Of Set: Cinema Stars (Coloured)
Manufacturer: British American Tobacco
Issue Year: 1928
Card Number: 50
Film Star Names: Ivy Close, William Russell, Tom Moore, Jean Paige, Milton Sills, Marble Normand, Mae Marsh, Guy Newell, Peggy Hyland, Madge Kennedy, Buck Jones, Violet Hopson, Winifred Mc Carthy, Marion Davies, May Allison, Anne Luther, Alice Joice, Norma Talmadge, Madlaine Traverse, Ivy Duke, Bessie Love, Doris May, Jackie Coogan, Joan Maclean, Sydney H Folker, Shale Gardner, Charles Ray, George Walsh, Tom Mix, Stewart Rome, Larry Seaman, Dustin Farnum, Jack Pickford, Pauline Frederick, Charlie Chaplin, Constance Talmadge, Brynt Washburn, Lawson Butt, Katherine Macdonald, Richard Barhelmass, Constance Worth, Billie Burke, Isobel Elsom, WS Hart, June Caprice, Corrinne Griffith, Carol Halloway, Louise Lovely, Pearl White and Shirley Mason.

Name Of Set: Cinema Celebrities ( Three Star Magnums )
Manufacturer: Teofani
Issue Year: 1924
Card Number: 25
Film Star Names: Alice Terry, Mae Murray, Mabel Normand, Helen Chadwick, Madge Kennedy, Marion Davies, Priscilla Dean, Peggy Hyland, Jane Novak, Norma Talmadge,Betty Blythe, Eileen Sedgwick, Ruth Roland, Pauline Frederick, Naomi Childers, Wanda Hawley, Ethel Clayton, Edna Purviance, Louise Lovely, Corinne Griffith, Dorothy Phillips, Constance Talmadge, Dorothy Dalton, Viola Dana and Clara Kimball Young.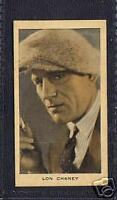 Name Of Set: Film Favourites (Four Aces)
Manufacturer: WD and HO Wills
Issue Year: 1928
Card Number: 75
Film Star Names: Renee Adoree, May Allison, George K Arthur, Mary Astor, Richard Barthelmess, Constance Bennett, Eleanor Boardman, Olive Borden, Clive Brook, Lon Chaney, Joan Crawford, Helene Dalgy, Viola Dana, Marion Davies, Marceline Day, Marguerite De La Motte, Reginald Denny, William Desmond, Xenia Desni, Miss Du Pont, Charles Farrell, Pauline Frederick, Janet Gaynor , Hoot Gibson, John Gilbert, Corinne Griffith, Sessue Hayakawa, Johnny Hines, Lloyd Hughes, Maria Jacoline, Buster Keaton, Raymond Keane, Doris Kenyon, Norman Kerry, Alice Lake, Laura La Plante, George Lewis, Harry Liedtke, Jacqueline Logan, Louise Lorraine, Edmund Lowe, Dorothy Mackaill, Blanche Mehaffey, Shirley Mason, May McAvoy, Tom Mix, Colleen Moore, Tom Moore, Lois Moran, Mae Murray, Carmel Myers, Conrad Nagel, Ramon Novarro, Anna Q Nilsson, Greta Nissen, Marion Nixon, George O'Brien, Gertrude Olmsted, Sally O'Neil, Mary Philbin, Aileen Pringle, Sally Rand, Charles Ray, Alma Rubens, Norma Shearer, Milton Sills, Pauline Starke, Anita Stewart, Lewis Stone, Blance Sweet, Alice Terry, Virginia Valli, Henry Victory and Claire Windsor.