Ships On Cigarette Cards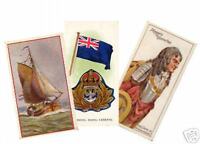 ---
Tobacco manufacturers issued cigarette cards on many different topics from the 1870s-1930s. Shipping was definitely a favourite and cigarette card sets were issued on every aspect of them: history, battleships, cruise liner interiors, figureheads, ship badges and famous ships such as the Bounty and Titanic.

It would be impractical to list every ship set issued and so I've listed small selection of the more unusual and rare card sets that I've come across in my six years of dealing on eBay. I've provided scans of a sample card from each set and tried to include all card titles.


Name Of Set: Ship Series
Manufacturer: PJ Carroll & Co Ltd
Issue Year: 1934
Card Number: 25
Card Titles: Cutter Yacht, Venetian Bragozzi, Brigantine, Rice Boat on the Irrawaddy, Bermuda Rig, Danish Coaster, Dutch Schuyt, Arab Dhow, Ganges Sailing Boat, Tchuktchi Skin Canoe - Alaska, Moleta Fishing Boat - Portugal, Thames Barge, Venetian Trabacola, Spanish Coaster, Blakenberghe Brig - Belgium, Chinese Junk, Japanese Sailing Boat, Yarmouth Yawl, Fiji Sailing Canoe, Zangada Sailing Raft - Brazil, Bombay Dinghy, Italian Rivera Boat, Tarta Galley - Malay Archipelago, Nile Boat, and Malay Penjajap.

Name Of Set: Ships Flags & Cap Badges
Manufacturer: John Player and Sons
Issue Year: 1930
Card Number: 50
Card Titles: The Royal Navy, The Royal Naval Reserve, The Mercantile Marine, Trinity House Pilot, Royal National Lifeboat Institution, Aberdeen Line, Atlantic Transport Co., Australian Commonwealth Line, Bibby Steamship Co., Canadian Pacific Steamships, Cunard Steamship Co., Dominion Line, Elder Dempster and Co, Elders and Fyffes, Federal Steam Nav Co, Harrison Line, Lamport and Holt Line, Leyland Line, Oceanic Steam Navy, Ocean Steamship Co., Orient Steam Navy, Peninsular and Oriental Steam Navigation, Shaw Savill and Albion, Southern Railway Co., Union-Castle Mail Steamship, Anchor Line, Asiatic Steam Navn. Co, Booth Steam Ship, British India Steam Navy, Brocklebank Line, Cadet School Ship HMS Conway, City Lines,Clan Line, HM's Coastguard Service, Commonwealth and Dominion Line, Ellerman's Wilson Line, Furness Line, Glen Line, Hall Line, Patrick Henderson and Co, Houlder Line, RP Houston, Indo-China Steam Navn, Isle of Man Steam Packet, McIlwreaith McEacharn's Line, Moss Steam Ship, Nelson Line Liverpool, New Zealand Shipping Co., Thames Nautical Training Coll HMS Worcester, and Union Steam Ship Co of N Zealand.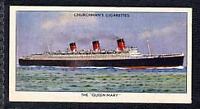 Name Of Set: The Queen Mary
Manufacturer: WA & AC Churchman
Issue Year: 1936
Card Number: 50
Card Titles: Tank Experiments With Model, Model in Wind Tunnel, The Queen Mary Double Bottom in Position, Shaft Bossing at Stern, Framework of Bows with Stem in Position, Plating in Progress at Bows, Transporting The Huge Stern Frame, Fitting One of the 4 Propellers, View Under Hull Showing Drag Chains, Launching Ceremony By HM Queen Mary, The Queen Mary Launched, In the Fitting-out Basin, In One of the Boiler Rooms, Masts in Position, The Foremast Looking Upwards, Inside the Foremasts Looking Upwards, Funnels in Position, Forward Funnel Compared With Nelson Column, Funnel Compared With 3 Locomotives, Captain Sir Edgar Britten Inspecting One of the Anchors, Swithcboard in the Power Station, In One of the Kitchens, Main Restaurant Compared With First Cunarder and Columbus's Fleet, Main Restaurant 2nd Deck, Observation Lounge and Cocktail Bar Promenade Deck, Main Smoking Room, Shopping Centre, Tobacconist's Shop, Children's Playroom, Special Suite on the Main Deck, Verandah Grill on the Sun Deck, Main Swimming Pool on the C Deck, Special Suite, Tourist Lounge, Tourist Swimming Pool, Tourist Stateroom, Third Class Garden Lounge, Third Class Stateroom, Sun Deck, Terraced Decks Forward, Motor Lifeboat Under Construction, At Work on the Kelvite Compasses, Synchronizing the Clocks, At Work on a Section of the Blue Ensign, Main Lounge compared with 9 Buses and 3 Locomotives, Main Louge, The Queen Mary Compared with First Cunarder, The Queen Mary Compared with tower Bridge, Trafalgar Square, and The Queen Mary.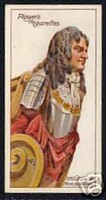 Name Of Set: Ships' Figureheads
Manufacturer: John Player and Sons
Issue Year: 1912
Card Number: 25
Card Titles: HMS Princess Royal, HMS Queen Charlotte, HMS Colossus, HMS Seahorse, HMS Royal William, HMS Bellerophon, HMS Royal Albert, HMS St Vincent, HMS Duke of Wellington, The Sybille, HMS Leander, HMS Edinburgh, HMS Formidable, Ther Terra Nova, The Half Moon, HMS Warrior, HMS Victory, HMS Shannon, HMS Duke of Marlborough, HMS Ajax, HMS Gibraltar, HMS Royal Sovereign, HMS Eurydice, HMS Calcutta, and HMS Black Prince.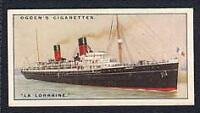 Name Of Set: The Blue Riband of the Atlantic
Manufacturer: Ogdens
Issue Year: 1929
Card Number: 50
Card Titles: The Curacao, The Great Western, The Britannia, The Acadia, The Cambria, The Herman, The Pacific, The Artic, The Adriatic, The Arabia, The Pereire, The Connaught, The Persia, The Scotia, The City of Paris, The City of Brussels, The Adriatic, The Baltic, The City of Berlin, The Britannic, The Germanic, The Dakota, The Arizona, The Alaska, The City of Rome, The America, The Oregon, The Etruria, The Aller, The City of Paris, The Teutonic, The City of New York, La Touraine, The Augusta Victoria, The Furs Bismarck, The Campania, The Lucania, The Ernest Bazin, The Kaiser Wilhelm Der Grosse, The Kaiser Friedrich, The Deutschland, La Lorraine, The Kronprinz Wilhelm, The Kaiser Wilhelm II, The Kronprinzessin Cecilie, The Lusitania, The Mauretania, The France, Proposed Blue Riband Liners, and The Bremen.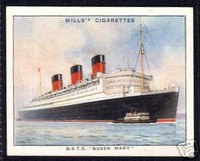 Name Of Set: Famous British Liners, 2nd Series
Manufacturer: WD and HO Wills
Issue Year: 1935
Card Number: 30
Card Titles: SS Esperance Bay, TSS Tuscania, MV Staffordshire, TSS Sarpedon, MV Australia Star, MV Imperial Star, RMS Niagara, SS Duchess of Richmond, SS Empress of Japan, SS Montrose, QSTS Queen Mary, RMS Olympic, SS Homeric, MV Britannic, RMS Franconia, RMS Lancastria, SS City of Nagpur, SS Newfoundland, TSS Vandyck, RMS Rangitata, SS Orion, RMS Orduna, RMS Moldavia, RMS Strathmore, RMS Strathnaver, RMS Asturias, RMMV Highland Patriot, RMS Tamoroa, RMMV Carnarvon Castle, and RMMV Winchester Castle.

Name Of Set: Old Naval Prints
Manufacturer: John Player and Sons
Issue Year: 1936
Card Number: 25
Card Titles: Henry Grace a Dieu, Coveraighne of the Seas, Royal William, HMS Victory, HM Frigate Juno, HMS Canopus, Action Between HMS Leander and the French Ship Le Genereux, The Battle of Coppenhagen, HM Frigate Pomone, HM Frigate Vindictive, HM Frigate Shannon and the Chesapeake, HMS Majestic Engaging French and American Ships, The East Indiaman Warren Hastings, HMS Powerful, Codrington's Flagship HMS Asia Before The Battle of Navarino, HM Brig Waterwitch, HMS Rodney, HM Frigate Pique, HM Brigantine Bussard Capturing The Formidable, HMS Vanguard, HMS Queen, HM Frigate Eurydice, HM Frigate Raleigh, HMS Sans Pareil and HMS Agamemnon at Sebastopol, and HM Steam Frigate Warrior Our First Iron Clad.

Name Of Set: River & Coastal Steamers
Manufacturer: Stephen Mitchell
Issue Year: 1925
Card Number: 70
Card Titles: SS Aberdonian, S.S. Antrim, TS Atalanta, S.S Bernicia, SS Brora, R.M.S. Columba, SS Culzean, S.S. Curraghmore, P.S. Devonia, TS Duchess of Argyll, P.S. Duchess of Fife, PS Duchess of Rothesay, R.M.S. Duke of Cumberland, SS Dunara Castle, P.S. Eagle, P.S. Glen Rosa, T.S. Glen Sannox, P.S. Golden Eagle, S.S. Goodwin, SS Great Southern, Thames Steamer Hampton Court, S.S. Hebrides, RMS Hibernia, SS Highlander, S.S. Hound, RMS Iona, P.S. Isle of Arran, P.S. Juno, P.S. Jupiter, S.S. Kenmare, SS Killarney, TS King Edward, T.S King Orry, P.S. Kylemore, S.S. Lady Limerick, PS La Marguerite, P.S. Lord of the Isles, SS Lorina, R.M.S. Manx Maid, R.M.S. Manxman, P.S. Marchioness of Breadalbane, SS Mellifont, P.S. Mercury, T.S. Mona's Isle, SS Norfolk, SS Olive, R.M.S. Partridge, S.S. Patriotic, SS Perth, RMS Princess Victoria, SS Puma, TS Queen Alexandra, PS Queen-Empress, S.S. Reindeer, SS Roebuck, SS Royal Fusilier, P.S. Royal Sovereign, SS St. Andrew, SS St. Julien, RMS St. Magnus, S.S. Sheerness, SS Skerries, TS Snaelfell, SS Southern Coast, SS Tiger, RMS Viking, SS Vulture, PS Westward Ho, RMS Woodcock, and SS Yarrow.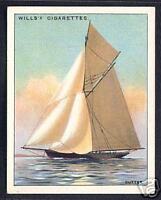 Name Of Set: Rigs of Ships
Manufacturer: WD and HO Wills
Issue Year: 1929
Card Number: 25
Card Titles: Schooner Two-Masted, Schooner Three-Masted, Schooner Six-Masted, Ship Full Rigged, Sloop, Venetian Fishing Boat, Junk,Ketch, Lugger, Norwegian Jaegt, Pink, Topsail Schooner, Brigantine, Cat Boat, Coble, Cutter, Dhow, Felucca, Sailing Barge, Barque Three-Masted, Barque Four-Masted, Barquentine, Bawley, and Brig.