Vintage Radio / Wireless Cigarette Cards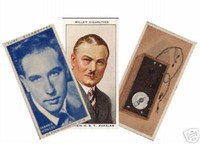 ---
Cigarette cards were issued during an exciting time in history, 1870s-1930s, when many inventions and discoveries were coming into fruition. The radio or wireless was one of them. As with many inventions, it was initially used for military purposes before it was unleashed in the public domain.
The tobacco companies were quick to issue sets of cigarette cards on how to build wireless sets in the early twenties. Radio rapidly evolved into a popular form of entertainment before the television.
The cigarette card issuers were well placed to capitalize on this and issued a nice selection of cards, some of which are listed below. I've provided scans of a sample card from each set and tried to include all card titles.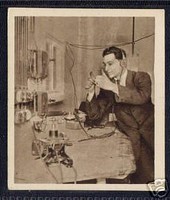 Name Of Set: Wireless Telephony - Broadcasting Series
Manufacturer: R and J Hill
Issue Year: 1923
Card Number: 20
Card Titles: Uncle Arthur, Uncle Rex, Auntie Gladys, The Manchester Radio Trio, Mr Edward Isaacs, Kiddies Competition, Mr Herbert Carruthers, Newcastle Studio, Uncle Pat, Aunt Sophie and the London Uncles, The Eyes of 2 Lo, Uncle Edgar, Uncle Jeff, The Glasgow Studio, The Manchester Studio, The Newcastle Director, At the Newcastle Station, Uncle Jeff and his Orchestra, A Popular Artiste - Miss Elsie Suddaby, and Three London Uncles.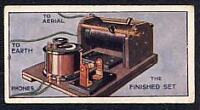 Name Of Set: How To Make Your Own Wireless Set
Manufacturer: Godfrey Phillips
Issue Year: 1923
Card Number: 25
Card Titles: -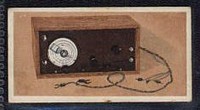 Name Of Set: How to Build a Two Valve Set
Manufacturer: Godfrey Phillips
Issue Year: 1929
Card Number: 25
Card Titles: -

Name Of Set: Broadcasting
Manufacturer: Ogdens
Issue Year: 1935
Card Number: 50
Card Titles: Broadcasting House, Studio Listening Room, Control Room, Droitwich Transmitting Station, Transmitter Power Control Desk, Simultaneous Broadcast System, Control Room at Leeds, Studio No. 2 at Cardiff, The Orchestral Studio, Studio No 1 in Manchester, Northern Children's Hour, BBC Northern Orchestra, Studio No 2 at Birmingham, Broadcasting House in Newcastle, Studio No. 1 at Bristol, A Broadcast Discussion, Broadcasting a History Lesson, School Broadcasts - A Nature Study Lesson, B.B.C. Symphony Orchestra in the Queen's Hall, Opera Broadcasts - Amplifier Equipment at Covent Garden, Outside Broadcast Hut, Broadcasting a Test Match, Broadcasting the Grand National, Broadcasting the Boat Race - The BBC Launch Magician, Broadcasting the Silver Jubilee Procession, Big Ben, News Editor's Cubicle and News Studio, Reading the News Bulletin, The Organ in the Concert Hall, A Rehearsal in the Concert Hall, BBC Military Band in the Concert Hall, Broadcasting an Operatta from the Concert Hall, A Rehearsal in St. George's Hall, A Concert Party in the Vaudeville Studio, BBC Dance Orchestra, Studio No.1 Maida Vale, The Council Chamber, Press Listening Hall No. 1, Music Control Cubicle, Dramatic Control Panel, Effects Studio, Gramophone Effects Studio, Effects Studio - Rain Effect,A Four-in-Hand Coach,Control Room - Maintenance Engineers at Work,Marconi Steel-Tape Machine, Recording the King's Speech at the World Economic Conference, Duke of Gloucester Launching the Orion by Wireless from Brisbane, and Inauguration of England to India Telephone Service.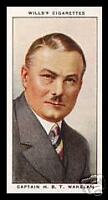 Name Of Set: Radio Celebrities, First Series
Manufacturer: WD and HO Wills
Issue Year: 1934
Card Number: 50
Card Titles: Stuart Hibberd, ER Appleton, Frederick Grisewood, Commander Stephen King-Hall, Derck McCulloch, Sir Walford Davies, George F Allison, Christopher Stone, Captain HBT Wakelam, Sir Henry Wood, Dr Adrian Boult, B Walton O'Donnell, Joseph Muscant, Cecil Dixon, Gershom Parkington, Arthur Catterall, Peggy Cochrane, Reginald New, Olive Groves, Peter Dawson, Isobel Baillie, Richard Tauber, Paul Robeson, Dennis Noble, Anona Winn, Kate Winter, Marjery Wyn, Clapham and Dwyer, Jeanne De Casalis, Ernest Butcher and Muriel, Gracie Fields, Gillie Potter, Tessa Deane, Ronald Frankau, Leslie holmes and Leslie Sarony, Leonard Henry, Jack and Clude Hulbert, Cicely Courtneidge, Kenneth and George Western, Norman Long, Elsie and Doris Waters, Janet Joye, Billy Mayerl, Carroll Gibbons, Charles Kunz, Ambrose, Roy Fox, Lew Stone, Jack Payne, and Henry Hall.

Name Of Set: Radio Celebrities, Second Series
Manufacturer: WD and HO Wills
Issue Year: 1934
Card Number: 50
Card Titles: John Watt, Howard Marshall, Kneale Kelley, Joseph Lewis, Stanford Robinson, Sydney Baynes, Walford Hayden, Leslie Bridgewater ,Fred Hartley, JH Squire, Marie Wilson, Albert Sandler, Reginald Dixon, Eileen Joyce, Ronald Gourley, Foster Richardson, Mavis Bennett, George Baker, Cora Goffin, Bertha Willmott, Vivien Lambelet, Harry S Pepper, Mr Flotsam and Mr Jetsam, Doris Arnold, Enid Trevor, Will Hay, John Tilley, Davy Burnaby, Mabel Constanduros, Stanley Holloway, Stainless Stephen, Beryl Orde, Tommy Handley, Hermione Gingold, Ann Penn, Hermione Baddeley, Scott and Whaley, Harry Cliford Scott and Eddie Peter Whaley, Eve Becke, Collinson and Dean, Geraldo, Wynne Ajello, Billy Merrin, Debroy Somers, Elsie Carlisle, Sydney Kyte, Jack Jackson, Harry Roy, Jack Hylton, The Houston Sisters, and The Carly Cousins.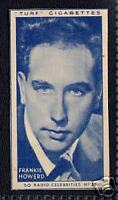 Name Of Set: Radio Celebrities (Turf) (Hand-cut)
Manufacturer: Carreras
Issue Year: 1950
Card Number: 50
Card Titles: Derek Roy, Basil Radford, Jack Train, Eric Barker, Richard Murcoch, Sylvia Welling, Rae Jenkins, Pearl Hackney, Kay Cavendish, Ivy Benson, Vic Oliver, Peter Cavanagh, Humphrey Lestocq, Belle Chrystall, Stanley Black, Jimmy Edwards, Naunton Wayne, Beryl Orde, Benny Lee, Suzette Tarri, Fred Yule, Doris Arnold, Ted Ray, Gladys Hay, Frankie Howard, Carole Carr, Charmian Innes, Gracie West, Diana Morrison, Sam Costa, Ethel Revnell, Wilfred Pickles, Dorothy Squires, Anona Winn, Michael Howard, Joyce Grenfell, Maudie Edwards, Charlie Chester, Helen Hill, Joy Nichols, Betty Paul, Kitty Bluett, Leon Cortez, Anne Shelton, Derek McCulloch, Avril Angres, Jeanne De Casalis, Donald Peers, Kenneth Horne, and Richard Dimbleby.