Navy Cigarette Cards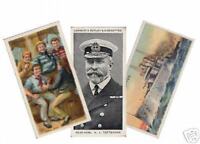 ---
Cigarette cards were issued during a turbulent time in the history of mankind, 1870s-1930s. They documented two of the most destructive wars, WWI and WWII. These days, a country's power is determined by its possession of nuclear warheads. At the beginning of the 20th century naval capacity was considered to be an important indication of military might.
Many cigarette card sets were issued on naval related topics, from the days of press-gangs and pirates through to WW2 battleships, aircraft carriers and submarines. I've listed a small selection of navy cigarette cards. I've provided scans of a sample card from each set and I've tried to list as many card titles as possible.

Name Of Set: Life on Board a Man of War in 1805 and 1905
Manufacturer: John Player and Sons
Issue Year: 1905
Card Number: 50
Card Titles: A Boarding Party, A Court Marshal, A Night Attack, A Powder Monkey, A Quiet Game of Cards, A The Wheel, Between Decks During a Fight, Cleaning Up After Coaling, Crossing The Line, Fiddlers Green, In The Mizzen Top, Landing Big Guns, Light Gun Drill, Man-of-War Cook, Manning the Yards, Marines At Rifle Drill, Maxim Gun, Maxim Practice, Signalling, Paying off Pennant, Poor Lights of The Deck, Prepare To Ram, Press Gang At Work, Prize Money, Ready To Salute, Receiving The Swords Of Vanquished Foes, Reefing The Sails, Sail Makers, Serving Out Rum, Ships Belfry, Firing A Gun, Firing Practice, Firing Big Gun, Fore-Castle Yarns, Gymnastics Whale Island, Heaving The Lead, Heaving The Lead, Heaving The Log, Hoisting Signals, Hauling A Rope, Single Stick Drill, Smoke Head Gear, Swivel In Man Of War's Top, After Barrette, The Bugler, The Ship's Barbers, The Wounded Man, Using Sewing Machines, Using A Nordenfelt Gun, and 6 inch Gun In Action.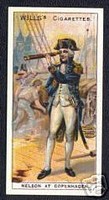 Name Of Set: Nelson Series
Manufacturer: WD and HO Wills
Issue Year: 1905
Card Number: 50
Card Titles: Nelson Shot at Trafalgar, Death of Nelson, The Ball Which Killed Nelson, Collingwood, Diamond Aigrette, Trafalgar Medal 1805, The Victory's Cockpit, The Nelson Barge, Casket Containing Freedom of London, The Victory 1805, Battle of Copenhagen, The Victory's Anchor, Nelson Column at Trafalgar Square, Silver Mounted Box of Oak Presented to Nelson 1798, Flag Captured at Calvi, Nelson's Bust, Nelson's Monument at St. Paul's, Hardy,Battle of St. Vincent, Nelson's Autograph, Nelson's Gold Watch Key and Seal, Nelson's Dirk, The Vioctory Towed into Gibraltar after Trafalgar, Nelson's Telescope, Nelson's Snuff-Box, Victory in 1905, Nelson at the Battle of Copenhagen, Nelson Wounded at the Nile, Battle of Trafalgar, Nelson's Gold Knife and Fork, Battle of the Nile, Three-Decker, Nelson's Favourite Grog Jug, Sailor's Charm, Turkish Canteen, Nelson's Tomb at St Paul's, Armorial Bearings of Nelson, Nelson's Sword, Turkish Sabre Hilt, Nelson's Silver Mounted Knife, Mainmast of Victory, Nelson's Coat, 14 Gun Brig, Lord Nelson, Nelson's Birth Place, Nelsons Dress Sword, Nelson's Hat, Double-Headed Shot, Nelson's Last Signal, and Two-Decker.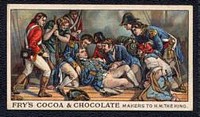 Name Of Set: Days of Nelson
Manufacturer: JS Fry & Sons Ltd (Confectionery)
Issue Year: 1906
Card Number: 25
Card Titles: -

Name Of Set: Naval Dress and Badges
Manufacturer: WD and HO Wills
Issue Year: 1909
Card Number: 50
Card Titles: Admiral of the Fleet, Admiral of the Fleet, Admiral, Admiral, Vice-Admiral, Vice-Admiral, Rear-Admiral, 2nd Class Commodore, Captain, Commander, Lieutenant Over 8 Years, Lieutenant Over 8 years, Sub-Lieutenant, Midshipman, Naval Cadet, Lieutenant RNR, Lieutenant RNVR, Engineer-Captain, Engineer-Captain, Fleet-Surgeon, Fleet-Surgeon, Staff-Paymaster, Staff-Paymaster, Chief Gunner, Chief Artificer Engineer, Chief Armourer, Master-At-Arms, Torpedo Coxswain, Petty Officer, Gymnastic Instructor, Leading Seaman, Torpedo Gunner's Mate, Gunner's Mate, Gunlayer 2nd Class, Gunlayer 3rd Class, Artisan, Stoker, Sick Berth Attendant, Signalman, Boy, Royal Marine Artillery, Royal Marine Light Infantry, and Seaman RNVR.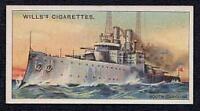 Name Of Set: The World's Dreadnoughts
Manufacturer: WD and HO Wills
Issue Year: 1910
Card Number: 25
Card Titles: Neptune, Vanguard, Bellerophon, Indefatigable, Dreadnought, Invincible, Lord Nelson, Jean Bart, Voltaire, Thuringen, Von Der Tann, Nassau, Westfallen, Blucher, Arkansas, North Dakota, South Carolina, Satsuma, Tsukuba, Ibuki, Petropavlovsk, Dante Alighieri, Radetzky, Minas Geraes, and Rividavia.

Name Of Set: British Naval Series
Manufacturer: Gallaher
Issue Year: 1914
Card Number: 50
Card Titles: Admiral Sir William H May, Vice-Admiral J. Startin, Admiral HSH Prince Louis of Battenberg, Admiral Sir Percy Scott, A Class Submarine, Admiral Sir George Neville, Admiral Sir GA Callaghan, Vice-Admiral Sir CJ Briggs, Vice-Admiral Sir AM Farquhar, B5 Submarine, Admiral Sir ES Poe, Vice-Admiral WB Fisher, Admiral Sir Francis C Bridgeman, Mine Sweepers, HMS Terrible, Admiral Sir Richard Poore, Admiral Sir AD Fanshawe, Admiral Sir G Le C Egerton, Stern View of A D Class Submarine, HMS Fearless, HMS Caesar, HMS St. Vincent, HMS Neptune, HMS Queen Mary, HMS Drake, HMS Bristol, HMS Temeraire, HMS Superb, HMS Indomitable, and HMS Invincible.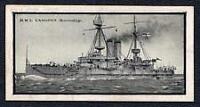 Name Of Set: British Warships, 2nd Series
Manufacturer: Stephen Mitchell
Issue Year: 1915
Card Number: 25
Card Titles: HMS Chatham, HMS Glasgow, HMS Canopus, HMS Lance, HMS Venerable, HMS Laertes, HM Submarine BH, HM Submarine E9, HMS Kent, HMS Lion, HMAS Sydney, HMS Minerva, HMS Amphion, HMS Good Hope, HMS Cumberland, HMS Monmouth, HMS Agincourt, HMS Invincible, HMS Hogue, HMS Triumph, HMS Queen Elizabeth, HMS Tiger, HMS Bristol, HMS Arethusa, and HMS Highflyer.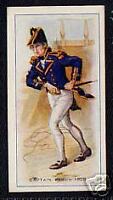 Name Of Set: British Sea Dogs
Manufacturer: John Sinclair
Issue Year: 1928
Card Number: 50
Card Titles: Commander, Captain 1805, Officer, Seaman, Officer, Ancient British Seamen, Archer,Seamen 1840, Royal Marine, Seamen, Archer, Marine, Midshipman, Seaman, Seaman, Anglo-Saxon Officer, Seaman-Musketeer, Admiral, Anglo-Roman Commander, Mariner, Admiral 1805, A Diver, Seamen, Cabin Boy, Admiral, Master Mariner, Mariner, Cromwellian Seamen, Officer of Marines, Seamen of the Submarine Service, Royal Marine 1805, Flag-Lieutenant 1880, Officer of Royal Marines, Anglo-Norman Master, Anglo-Norman Mariner, Anglo-Danish Mariner, Commander, Seamen 1850, Midshipman, Captain, Seamen 1805, Anglo-Saxon Seamen, Viking,Admiral, Flying Officer, Commander, Navy Officer ,Seamen 1880, and Captain.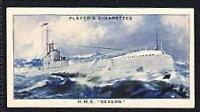 Name Of Set: Modern Naval Craft
Manufacturer: John Player and Sons
Issue Year: 1939
Card Number: 50
Card Titles: HMS Nelson, HMS Warspite, HMS Revenge, HMS Hood, HMS Repulse, HMS Exeter, HMS Norfolk, HMS Southampton, HMS Curlew, HMS Adventure, HMS Greenville, HMS Afridi, HMS Severn, HMS Narwhal, HMS Sunfish, HMS Ark Royal, HM Torpedo Boat 102, Dunkerque, Algerie, La Galissonniere, Mogador, Surcouf, Bearn, Admiral Graf Spee, Nurnberg, Georg Thiele, U16, Conte DI Cavour, Bolzano, Giuseppe Garibadi, Libeccio, Giuseppe Finzi, Nagato, ISE, Atago, Kumano, Samidare, I21, Akagi, California, Colorado, Quincy, Brooklyn, Gridley, Perch, Oahu, Enterprise, Saratoga, Leningrad, and Revolutioner.