Horse Racing Cigarette cards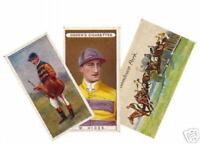 ---
People have been racing horses for thousands of years. The cigarette set "Races - Historic & Modern", issued by Carreras in 1927, shows the different types of horse racing through the ages.
Horse racing has been closely associated with gambling for many years and I'm sure many of us have been tempted to have a flutter at some time. Tobacco companies were quick to take advantage of the popularity of horse racing and produced many sets from the 1900s-1930s, especially Ogdens Ltd.
It would be impractical to list every racehorse cigarette card set ever issued and so I've listed a small selection of the more rare and unusual ones. I've provided scans of a sample card from each set and I've tried to list as many card titles as possible.

Horse Racing Card Sets
---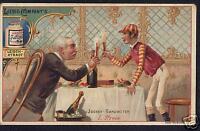 Name Of Set: A Jockey's Career (S226)
Manufacturer: Liebig Extract of Meat Co
Issue Year: 1888
Card Number: 6
Card Titles: -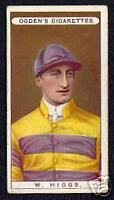 Name Of Set: Owners, Racing Colours & Jockeys (Blue Back)
Manufacturer: Ogdens
Issue Year: 1906
Card Number: 50
Card Titles: J. Plant, George McCall, W. Higgs, H. Randall, A. Templeman, C. Trigg, JH Martin, Frank Bullock, Kempton Cannon, Jack Jarvis, William Griggs, H. Blades, George McCall, Frank Bullock, George McCall, JW East, W Saxby, Herbert Jones, Jimmy Hare, Bernard Dillon, F. Hardy, Jimmy Hare, JH Martin, H Randall, Bernard Dillon, W Halsey, William Griggs, W. Higgs, Danny Maher, Otto Madden, Barrington Lynham, F. Hardy, Bernard Dillon, H. Blades, Barrington Lynham, Danny Maher, Danny Maher, Bernard Dillon, Otto Madden, A. Templeman, E. Wheatley, Kempton Cannon, E. Wheatley, H. Randall, Mornington Cannon, H Randall, Herbert Jones, Wornington Cannon, Otto Madden, and Herbert Jones.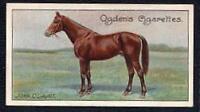 Name Of Set: Racehorses
Manufacturer: Ogdens
Issue Year: 1907
Card Number: 50
Card Titles: Cicero, Spearmint, Bachelor's Button, Ferndown, Carbine, Gorgos, Florizell II, Gamecock, Lally, Bend Or, Donnetta, Ard Patrick, Cherry Lass, Galopin, Keystone II, Cloister, John O' Gaunt, Moifaa, Flying Fox, Ascetic's Silver, Kirkland, Persimmon, Diamond Jubilee, La Fle'che, Epsom Lad, Volodyovski, Sainfoin, Traquair, Slieve Gallion, Perdita II, Sceptre, Victor Wild, Santoi, Ladas, Velocity, Melton, Troutbeck, Minifesto, St. Simon, Jeddah, Hackler's Pride, Black Arrow, Orme, Zinfandel, Imari, Rock Sand, Galtee More, Roseate Dawn, Isinglass, and Pretty Polly.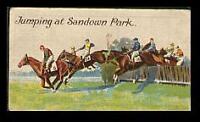 Name Of Set: Racing Series (26-50)
Manufacturer: EW Anstie
Issue Year: 1922
Card Number: 25
Card Titles: Captain Cuttle, Royal Lancer, Devizes, Pogrom, Music Hall, Re-Echo, Steve Donogue, C. Elliott, Beary, V. Smyth, E. Gardner, Mr Brown, Racing at Newbury, Racing at Goodwood, Sandown Park, The Grand National Steeplechase at Aintree, Concaster Races, Racing at Ascot, Parade for the Derby, Lady James Douglas, Egerton House Stables at Newmarket, Mr Fred Darling's Stables at Beckhampton in Wiltshire, A Visit to Mr. Alec Taylor's Stables at Manton in Wiltshire, and Tattenham Corner.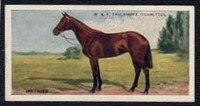 Name Of Set: Prominent Racehorses of The Present Day, 2nd Series
Manufacturer: W&F Faulkner
Issue Year: 1924
Card Number: 25
Card Titles: Chosroes, Diophon, D'Orsay,Druid's Orb, Eastern Monarch, Ellangowan, Golden Boss, Knight of the Garter, Moabite, Mumtaz Mahal, Obliterate, Papyrus, Purple Shade, Roger de Busli, Saltash, Scyphius, Sergeant Murphy, Silurian, Straitlace, Teresina, The Night Patrol, Top Gallant, Tranquil, Triumph, and Verdict.

Name Of Set: Winners of the Turf, Large
Manufacturer: Alexander Boguslavsky Ltd
Issue Year: 1925
Card Number: 25
Card Titles: Sergeant Murphy, Mr. RB Davidson, Ellangowan, Top Gallant, Chivalrous, Simon Pure, Diligence, Captain Cuttle, Papyrus, Brownhylda, Mumtaz Mahal, Eastern Monarch, Weathervane, Happy Man, Druids Orb, Saltash, Epinard, Sicyon, Straitlace, Triumph, Tranquil, Rose Prince, Verdict, Shaum Spadah, and Silvo.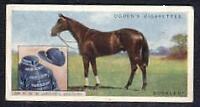 Name Of Set: Derby Entrants 1926
Manufacturer: Ogdens
Issue Year: 1926
Card Number: 25
Card Titles: Apple Sammy, Artist Glow, Booklet, Buckler, Colorado, Comedy King, Coronach, Finglas, Friar Wile, Gay Lothario, Grandlight, Grassmoor, Happy Recruit, Harpagon, Jessel, Lancegaye, Legionnaire, Lex, Lightning Artist, Pantera, Phanarite, Pharan, Review Order, Rosehearty, and Swift and Sure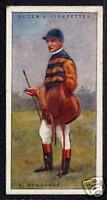 Name Of Set: Jockeys, and Owners' Colours
Manufacturer: Ogdens
Issue Year: 1927
Card Number: 50
Card Titles: W Alford, JR Anthony, G Archibald, A Balding, M Beary, H Beasley, A Berry, J Brennan, A Burns, T Burns, J Caldwell, J Canty, B Carslake, J Childs, F Dempsey, J Dines, S Donoghue, P Donoghue, G Duller, C Elliott, E Foster, F Fox, G Hulme, J Kirby, R James, H Jelliss, RA Jones, F Lane, J Leach, H Leach, TE Leader, W McLachlan, W Marland, J Marshall, F O'Neil, R Perryman, T Pryor, FB Rees, G Richards, J Sirett, C Smirke, W Speck, G Stern, JA Taylor, J Thwaites, G Walsh, T Weston, MA Wing, F Winter, and H Wragg.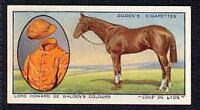 Name Of Set: Prominent Racehorses of 1933
Manufacturer: Ogdens
Issue Year: 1933
Card Number: 50
Card Titles: Brown Betty, Brown Jack, Canon Law, Chatelaine, Colombo, Colorado Kid, Concerto, Coup De Lyon, Dastur, Delaneige, Dick Turpin, Felicitation, Foxhunter, Goldon Miller, Gregalach, Harinero, Hyperion, Insurance, Jim Thomas, Kellsboro Jack, King Salmon, Light Brocade, Limelight, Loaningdale, Lo Zingaro, Mannamead, Master Vere, Maureen, Meadow Rhu, Medieval Knight, Merenda, Montrose, Mrs Rustom, Muscatel, Myrobella, Nitsichin, Pharacre, Raymond, Rodosto, Roi De Paris, Sans Peine, Seminole, Solenoid, Statesman, Tai-Yang, The Abbot, The Blue Boy, Umidwar, Versicle, and Young Lover.