Gardening Cigarette Cards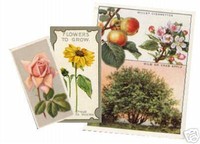 ---
The origins of ornamental gardening date back to Ancient Egypt, illustrated in tomb paintings. The Hanging Gardens of Babylon demonstrated that the Persians were partial to the art of gardening as well. Gardening still has a devout following and the numerous gardening cigarette card sets show that it was equally popular in the first half of the 20th century.
I've listed small selection of garden related cigarette card sets below. I've provided scans of a sample card from each set and tried to include all card titles.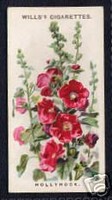 Name Of Set: Old English Garden Flowers,1st Series
Manufacturer: WD and HO Wills
Issue Year: 1910
Card Number: 50
Card Titles: Speedwell, Tulip,Flowering Sage, Ox-ey Daisy Marguerite, Centaury, Annual Sunflower, Dahlia, White Japenese Windflower, Evening Primrose, Perennial Phlox, Aubrietia, Hollyhock, Forget-Me-Not, Gaillardia, Mignonette, Coreopsis, Borage, Monkshood, Iris, Periwinkle, Lavender, Nasturtium, Snapdragon, Scabious, Aster, Wallflower, Carnation, Paeony, Sweet William, Pansy, Guelder Rose, Ten-Week Stock, Sweet Pea, Michaelmas Daisy, Christmas Rose, Common Broom, Gladiolus, Opium Poppy, Honeysuckle, Foxglove, Daffodil, Rose, Canterbury Bell, Delphinium, Heath, Pink, Candytuft, Sweet Violet, Fuchsia, and Chrysanthemum.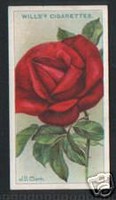 Name Of Set: Roses, 1st Series
Manufacturer: WD and HO Wills
Issue Year: 1912
Card Number: 50
Card Titles: Perle D'or, Madame Jules Gravereaux, Lady Penzance, Blanc Double De Coubert, Madame Ravary, Jessie, Frau Karl Druschki, Kaiserin Augusta Victoria, Queen of Spain, Marquise De Sinety, Eugenie Lamesch, Georges Pernet, Lady Gay, Marechal Niel, Amy Robsart, William Allen Richardson, Conrad F. Meyer, Meg Merrilies, Richmond, Anne of Geierstein, Madame Abel Chatenay, Mrs EJ Holland, Mrs Cocker, Dean Hole, La France, Niphetos, Maman Cochet, Caroline Testout, Common China, Ulrich Brunner, Hiawatha, Gloire De Dijon, JB Clark, Juliet, Mons Joseph Hill, Captain Hayward, Lady Ashtown, Antoine Rivoire, Edu Meyer, General Jacqueminot, Lyon Rose, General McArthur, Arthur R Goodwin, Common Moss, Mrs Aaron Ward, Lady Roberts, Betty, Grand Duc Adolphe De Luxembourg, Mme Pernet Ducher, and Charles Lefebvre.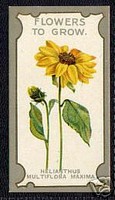 Name Of Set: Flowers To Grow - The Best Perennials
Manufacturer: RJ Lea
Issue Year: 1913
Card Number: 50
Card Titles: Anemone Hepatica, Lupinus Polyphyllus Roseus - The Pink Lupin, Doronicum - Leopard's Bane, Iris Cermanica - Flag Iris, Aquilecia Hybrida - Columbine, Trollius Asiaticus - Globe Flower, Campanula Clomerata - The Clustered Bell-Flower, Lupinus Nootkaensis, Tradescantia Virginica Violacea - Spiderwort, Ericeron Specisus - The Fleabane, Ceum Coccineum, Polemonium Ceruleum - Jacob's Ladder, Pyrethrum - James Kelway, Scabiosa Caucasica, Heuchera Sancuinea - The Coral Plant, Rudbeckia Speciosa - Cone Flower, Coreopsis Grandi-Flora, Papaver Orientale - Oriental Poppy, Lychnis Chalcedonica - Scarlet Lychnis, Physalis Franchetti - Cape Gooseberry, Delphinium Hybrid - Larkspur, Spiraea Aruncas - Goat's Beard, Verbascum - Mullein, Hemerocallis Fulva - Day Lily, Aconitum Napellus Pyramidalis - Monk's Hood, Oenothera Fraseri - Fraser's Evening Primrose, Delphinium Belladonna - Perennial Larkspur, Lychnis Viscaria, Anchusa Italica - Bugioss, Lathyrus Grandi-Florus - The Large-Flowered Everlasting Pea, Echinops Ritro - The Globe Thistle, Hieracium Aurantiacum, Alstromeria Aurantiaca - Peruvian Lily, Senecio Clivorum, Monarda Didyma - Bergamot, Inula Clandulosa - The Glandular Fleabane, Lysimachia Vulgaris - Yellow Loose-strife, Helenium Pumilum - Dwarf Sneezewort, Campanula Persicifolia - The Peach-leaved Bellflower, Chrysanthemum Maximum - Ox-Eye Daisy, Phlox Coquelicot, Iris Loevicata - Japanese Iris, Ceum Eweni - Avens, Helianthus Multi-Flora Maxima, Helianthus Multiflorus, Helenium Grandicephalum Striatum - Striped Sneezewort, and Anemone Japonica.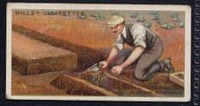 Name Of Set: Gardening Hints
Manufacturer: WD and HO Wills
Issue Year: 1923
Card Number: 50
Card Titles: Cabbage Plants, Pruning Gooseberry Bushes, Pruning Black Currant Bushes, A Hotbed, Seed Potatoes, A Potato Clamp, Planting Cabbages, Planting Potatoes, Sowing Peas, Thinning Raspberry Canes, Mistake of Planting too near Trees, Staking Chrysanthemums, Potting, Protecting Blooms, Root Pruning, Transplanting Seedlings, Summer Pruning of Roses, Staking, Planting Asparagus, A Marrow Bed, Raising Early Peas, Earwig Trap, Treatment of Bulbs after Flowering, Preparation of Geranium Cuttings, Starting Bulbs, Depth for Planting Bulbs, Making a Lawn, Whip Grafting, Re-potting, Planting Bulbs, In-arching, Budding Roses, Strawberry Propogation, Simple Propagators, Disbudding Chrysanthemums, Growing Water Lillies in a Tub, Protecting a Strawberry Bed, Levelling a Lawn, Stem Layering, Home Made Propagating Frame, Dividing Begonias, Planting Trees, Layering, Ringing, Rooting Shrub Cuttings, Cuttings, Staking Runner Beans, Potting Lily Bulbs, Dahlia Popogations, and Dividing a Root.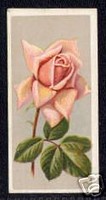 Name Of Set: Roses
Manufacturer: RJ Lea
Issue Year: 1924
Card Number: 50
Card Titles: Orleans Rose, Joseph Hill, Noblesse, Frau Karl Druschki, Mrs Foley Hobbs, Gorgeous, Courtney Page, Prince De Bulgarie, Edgar M. Burnett, Souvenir De Claudius, The Queen Alexandra, Cynthia Forde, Donald McDonald, Nur Mahal The Fairy of the Palace, Shot Silk, Ophelia, Marechal, Mrs George Shawyer, Madame Butterfly, Miss Willmott, Mrs. Henry Bowles, Elsie Beckwith, Mabel Morse, Golden Emblem, Mrs Herbert Stevens, Allen Chandlers, Mrs. John Laing, Mrs. C Russel, Lady Roundway, Charles E Shea, Dorothy Page-Roberts, and Emma Wright.

Name Of Set: Roses
Manufacturer: J Millhoff
Issue Year: 1927
Card Number: 25
Card Titles: Mrs Edward Mawley, Queen Mab, Rayon D'or, Madame Constant Soupert, Braiswick Charm, Alberic Barbier, Mrs Richard Draper, Mrs. George Shawyer, White Dorothy, Mrs Leonard Petrie, Corallina, British Queen, Irish Elegance, Lady Hillingdon, John Ruskin, Mrs Alfred Tate, Sunburst, Leslie Holland, Madame Melanie Soupert, Molly Sharman Crawford, Lady Alice Stanley, Lady Pirrie, Blush Rambler, and Iceberg,Carmine Pillar.

Name Of Set: Trees
Manufacturer: WD and HO Wills
Issue Year: 1937
Card Number: 40
Card Titles: Lime, Linden, Holly, Spindle Tree, Common or Field Maple, Sycamore, Horse Chesnut, Wild Cherry or Gean, Common or Cherry Laurel, Hawthorn, Wild or Crab Apple, Moutain Ash or Rowan, White Beam, Wild Service Tree, Elder, Wayfaring Tree, Strawberry Tree or Arbutus, Ash, Box, Common Elm, Birch, Alder, Hazel, Hornbeam, Oak, Sweet Chesnut, Beech, Walnut, Plane, White Poplar or Abele, Aspen, Lombardy Poplar, Crack Willow or Withy, White Willow, Goat Willow or Sallow, Juniper, Scots Pine or Scots Fir, Larch, Spruce, Douglas Fir, and Yew.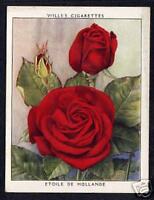 Name Of Set: Roses (Different) (Large)
Manufacturer: WD and HO Wills
Issue Year: 1936
Card Number: 40
Card Titles: Angele Pernet, Barbara Richards, Betty Uprichard, Chaplin's Pink Climber, Charles P Kilham, Cherry, Coral Cluster, Dame Edith Helen, Duchess of Atholl, Edith Nellie Perkins, Emma Wright, Etoile De Hollande, Frau Karl Drushki, Golden Dawn, Golden Salmon Improved, JC Thornton, JG Glassford, Julien Potin, Kirsten Poulsen, Lady Sylvia, Margaret McGredy, Mary Hicks, Max Krause, May Wettern, McGredy's Ivory, Mermaid, Mrs AR Barraclough, Mrs GA Van Rossem, Mrs George Geary, Mrs Henry Bowles, Mrs Henry Morse, Mrs Sam McGredy, Paul's Scarlet Climber, Polly,President Herbert Hoover, Rose Berkeley, Shot Silk, Sir David Davis, Sir Henry Segrave, and WE Chaplin.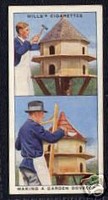 Name Of Set: Garden Hints
Manufacturer: WD and HO Wills
Issue Year: 1938
Card Number: 50
Card Titles: Sowing small seeds, Seedling planting, Seedling pricking, Watering seeds or seedlings, Taking cuttings, Potting young plants, Inserting plant cuttings, Potting plants, Preserving flavour of apples, Growing Bonsai, Making potatoes yeild good crops, Preserving onions for storage, Dividing and replanting rhubarb, Pruning young apple trees, Pruning young red currant bushes, Topping raspberry canes, Grease banding fruit trees, Bark ringing, Root pruning cordon fruit trees, Winter spraying, Marking out beds, Planting rose trees, Pruning standard rose trees, Planting lily bulbs, Potting early gladioli, Stopping sweet pea seedlings, Layering, Propagating ornamental leaf begonias, Dividing dahlia tubers, Sowing peas, Ventilating the garden frame, A slug trap, Digging, Trenching, Making seed drills, Staking standard trees, Trimming lawn edges, Lifting and laying turf, Repairing lawn edges, Destroying weeds, Concrete crazy paving, A paved surround for a garden seat, A concrete edge to the flower border, Making a water lily pool, Planting water lilies, Making a garden dovecot, Making a minature trough or sink garden, Laying edge tiles, and Making a plant propagating frame.