Cigarette Card's Meteoric Rise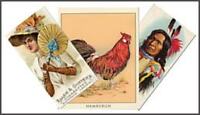 ---
Cigarette cards were issued during a significant time in the history of mankind, 1870s-1940s. These encyclopaedic cards captured the Precambrian explosion in 20th century innovation and social upheaval that propelled us into our modern age. World Wars, the first Hollywood movie stars, motorcars, the Wright Brothers' first flight, famous golfers, soccer stars, scarce wildlife and the atom bomb are all vividly portrayed on these frameable, miniature masterpieces.
Even the cigarette cards were the creation of rapid improvements in colour printing technology and competitive pressures of an expanding free market. It's possible that the powerful tobacco manufacturers who issued these humble, everyday items unwittingly accelerated information democracy itself at a time when books were still expensive to the average person.
The cigarette cards were designed from the start to be collected, perhaps becoming more addictive than the product itself. Even after a hundred years later, cigarette card collecting has surged ahead thanks to the ease of trading on the equally simple but innovative eBay website. At the start of the new millennium, a Honus Wagner card became the first cigarette card ever to exceed a million dollars, and one of the most expensive items to be sold on eBay. It is the cigarette card's uncanny ability to tap into the interests of a wide cross-section of society and inbuilt collectibility that have ensured its survival over other collectors' items.
History of Cigarette Cards
---
The trading card pre-dates the cigarette card and originated from the 17th century tradesman's cards. Advances in colour printing technology in the mid 19th century led to a rapid increase in trading card production. The trading card became a popular promotional tool among European firms, especially Au Bon Marche' and Liebig.
The first cigarette packets were very fragile and so a thick card was inserted to stiffen them. During a period considered by many to be one of the most innovative in the history of mankind, an enterprising US businessman decided to print a colourful advert on the "stiffener" card. The tireless evolution of the cigarette card was driven by the highly competitive and creative tobacco markets. Soon cards were issued on subjects appealing to smokers, such as glamorous actresses, sport, warships etc. Firms soon realised that they could strengthen customer loyalty by issuing sets of beautifully illustrated and informative cards, playing on man's instinctive desire to collect and for order and completeness.
At a time when the average person could not afford books, and newspapers contained no photographs, the attractive and encyclopaedic cigarette cards were very popular. At the beginning of the 20th century, more cards were issued with cigarette brands than for any other product and this is probably why trading cards are often referred to as "cigarette cards" even though there is no connection with cigarettes.
Initially, there were many small independent tobacco firms who issued cigarette cards but, as in many situations, a small group of powerful tobacco firms gradually emerged, striving for mass production and cost cutting. This was bad news for the cigarette card whose quality, it is generally accepted, declined as the years went by.
The cigarette card era came to a sudden end at the beginning of WWII, due to severe paper rationing.
The vacuum left by cigarette cards was partly filled by bubble gum cards and tea cards. It is generally accepted that the design of these post WWII cards favoured mass production over quality. There is currently a collectors' card renaissance. Some modern day collectors' card manufacturers are listening to what many collectors want and producing beautifully illustrated cards on high quality card stock once again.
Reasons For Collecting Cigarette Cards
---
Cigarette cards cover a wide range of subjects: sport, transport, wildlife, movie stars etc.
Cigarette cards vividly portray perhaps the most important time in history: 1870s-1930s.
Cigarette cards are beautifully illustrated, especially the early ones, making them ideal for picture framing.
Cigarette cards are easy to file away and don't require much storage space.
Cigarette cards are a valuable investment. One card exceeded a million dollars on eBay at the start of the millennium.
The cigarette card hobby has been firmly established for nearly 100 years now.
Cigarette cards have been well documented in guides dating back to the 1920s and so most cards are easy to identify, date and value.
Cigarette Card Storage

---
There are three main ways that cigarette cards can be stored, depending on what you wish to use them for.
Cigarette Card Investment
If you want cigarette cards for purely investment purposes, the best way to preserve them is to put your sets of cigarette cards into piles, wrap them in tissue paper and place them in an airtight container. This method is inconvenient if you wish to view them regularly.
Showing Your Cigarette Cards To The World
Not everyone wishes to hide their cigarette cards away in investment vaults. Many cigarette cards are extremely attractive and perfect for picture framing. It is quite common to see picture framed cigarette cards in old English public houses or restaurants. It is important not to display the cigarette cards in direct sunlight as this may cause discoloration.
The Best Compromise
The most popular form of cigarette card storage is the plastic page or leaf. The cigarette cards can be viewed without damaging them and then filed away conveniently in an album.
Grading Cigarette Cards
---
It is important in cigarette card collecting to purchase the very best condition cards you can afford, since these increase in value more rapidly than mediocre cards. Most cigarette card collectors are natural perfectionists and strive for the highest graded cards possible.
Mint: Exactly as issued.
Excellent: Clean back and front, including edges, sharp edges and sharp corners.
Very Good: Clean back and front, may have dirty and softened edges and rounded corners. No creases.
Good: Soiled on back or front. Blemished edges, rounded corners and one crease.
Fair: Creased, dirty or with mount damage to backs and possibly some picture surface missing.
Poor: Badly creased, dirty or with mount damage to backs and surface damage on backs and fronts.
What Cigarette Cards To Collect
---
The one advantage that the cigarette card has over other collectors' items is the fact that they cover so many globally appealling topics, even collecting itself. Many people are drawn into collecting cigarette cards through their other interests and hobbies eg someone who enjoys playing golf may collect golf cigarette cards. I've created a number of thematic cigarette card guides, including colour scans and information on a small selection of cigarette card sets to give you an idea of the vast range of topics available.
If you are interested in rare and unusual cigarette cards, please click here to join our free cigarette card newsletter.