Bird Cigarette Cards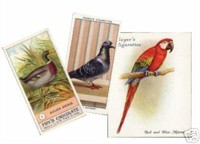 ---
Birds are among the most extensively studied of all animal groups. This is probably because they include a vast variety of species and their enviable talent for flying. Mankind has tried to imitate this skill for a long time, and only succeeded just over a hundred years ago. Birds also have a large repertoire of other skills, including the ability to imitate. Parrots can mimic human speech and studies have shown that African Grey Parrots are able to associate meaning with words.
It would be impractical to list every bird cigarette card set ever issued and so I've listed a small selection of the more rare and unusual ones. I've provided scans of a sample card from each set and I've tried to list as many card titles as possible.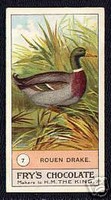 Name Of Set: Fowls, Pigeons & Dogs
Manufacturer: JS Fry & Sons Ltd (Confectionery)
Issue Year: 1908
Card Number: 50
Card Titles: Plymouth Rock, Golden Wyandotte, Silver-Pencilled Hamburgh, Ancona, Silver-Spangled Hamburgh, Jacobin, Rouen Drake Duck, Fantail,Homer, Magpie, Black-Red Game, Norwich Cropper, Black Minorca, Langshan, Black Spanish, Orpington, Dragoon, Blondinette, Trumpeter,Swallow, Aylesbury Duck, Spangled Old English Game, Brown Leghorn, Dorking...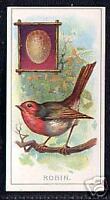 Name Of Set: Birds & Their Eggs
Manufacturer: John Filshill Ltd
Issue Year: 1924
Card Number: 24
Card Titles: Blackcap Warbler, Blackbird, Bullfinch, Chaffinch, Cuckoo, Dipper, Golden-Crested Regulus, Goldfinch, Hedge-Sparrow, Jay, Kingfisher, Magpie, Nightingale, Pied Wagtail, Redstart, Robin, Skylark, Starling, Thrush, Tom-Tit, Woodpecker, Wood-Pigeon, Wren, and Yellowhammer.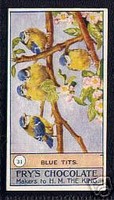 Name Of Set: Birds & Poultry
Manufacturer: JS Fry & Sons Ltd (Confectionery)
Issue Year: 1912
Card Number: 50
Card Titles: The Hooded or Royston Crow, Goldfinch, Swans, Wood Pigeons, Blackbird, Herring Gull, Silver Pheasant, Turkeys, Willow Warblers, Wagtails, Linnets, Thrushes, Golden Pheasants, Rook, Pelicans, Geese, Ringdoves, Ducks, Chicks, Plovers, Young Cuckoo, Robin, Barn Owl, Bullfinch, Great Tit, Swallows, Thrush, Great Tit, Kingfishers, Missel Thrushes, Blue Tit, Rooks, Missel Thrush, Long-Tailed Tit, Cross-Bred Peacock, Silver Wyandotte Hen, Cross-Bred Hen and Chicks, Young Brown Owls, Cock and Hen Pheasants, Cross-Bred White Leghorns, Tawny Owls, Plymouth Rock Hen and chicks, Guinea Fowls, Plymouth Rock Bantam, Swan and Cygnets, Wild Drake and Duck, Young House Martins in Nest, Peacocks, White Rose-Combed Dorkings, and Young Magpies.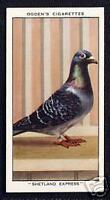 Name Of Set: Racing Pigeons
Manufacturer: Ogdens
Issue Year: 1931
Card Number: 50
Card Titles: A Breeding Pigeon, A Champion's Home, A Cheshire Champion, Dark Japan,Dauntless, Lord Dewar's Favourite, A Dundee Life-Saver, An East Anglian Champion, Entering the Loft, Faroe Pride, The Flying Scotchman, A Gallant Messenger, A Gas Mast for Pigeons, On of HM The King's Pigeons, An Ideal Pidgeon-Loft, Interior of R.A.F. Pigeon Loft, An Irish Record Holder, Little Hope, A Liverpool Aristocrat, LNER Pigeon Van, A London Champion, Marennes Winner 1928, The Nursery, The Only Survivor, PC Crabbe's Prize-Winning Pigeon, A Pigeon Journalist, Pigeon with Message Carrier, Pigeons Ready for Liberation, Pilot's Luck, Pons Winner 1929, Pride of the East, Attaching Race Ring, Receiving Pigeons at Sea, A Record Price Pigeon, Releasing a Pigeon from an Aeroplane, Releasing Pigeons, Sceptre, A Scottish Champion, Sending a Carrier-Pigeon from a Submarine, Shetland Express, Special Pigeon-Racing Clock, Triumph, A Very Gallant Bird, A War Hero, White Hope, A Working Man's Champion, A Working Man's Success, Writing a Message, and A Yorkshire Champion.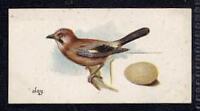 Name Of Set: Birds and Eggs
Manufacturer: Lambert and Butler
Issue Year: 1906
Card Number: 50
Card Titles: Kentish Plover, Turtle Dove, Pied Wagtail, Linnet, Nightingale, Common Heron, Bearded Tit, Snipe, Sand Martin, Long-Tailed Titmouse, Moor-Hen, Common Teal, Yellow Hammer, Song Thrush, Cuckoo, Common Tern, Sea-Gull, Reed Warbler, Barn Owl, Blue Titmouse, Golden Plover, Jackdaw, Goldfinch, Ptarmigan, Bullfinch, Jay, Skylark, Robin Redbreast, Hawfinch, Water Ouzel or Dipper, Wren, The Common Partridge, Sandpiper, Sparrow Hawk, Blackbird, Chaffinch, The House Sparrow, Buzzard, Magpie, Starling, Blackcap, Green Woodpecker, Grey-Leg Goose, Common Kingfisher, Wood Pigeon, Golden Eagle, Red Grouse, Swallow, Rook, and Greenfinch.

Name Of Set: Zoo Tropical Birds, 1st Series
Manufacturer: Gallaher
Issue Year: 1928
Card Number: 50
Card Titles: Ariel Toucan from Brazil, Royal Starling from Abyssinia, Javan Great-Billed Barbet from Java, Superb Tanager from Brazil, Jackson's Whydah Bird from Africa, Virginian Cardinal from North America, Golden Hangnest from Columbia, Wilson's Bird of Paradise from Waigiou, Desmarest's Green Tanager from Venezuela, Lesser Superb Bird of Paradise from South East New Guinea, Red-Crested Touracou from Angola, Gouldian Grassfinch from Australia, Larger Hill-Mynah from India, King Bird of Paradise from Aru Islands, Heck's Long -Tailed Grassfinch from North Australia, Verreaux's Amethyst Starling from Durban in South Africa, Hunstein's Magnificent Bird of Paradise from South East New Guinea,Ruby-Throated Warbler from China, Greater Bird of Paradise from Aru Islands, Princess Stephanie's Bird of Paradise, Crimson-Backed Tanager from South America, Roller from Persian Gulf, Prince Rudolf's Bird of Paradise, Lesser Bird of Paradise, Melba Finch, Rosella Parrakeet from Australia, Crimson-Eared Waxbill from West Africa, Humming Bird from Rio De Janeiro, Golden-Headed Quezal from Andes of Ecuador, Humming Bird from British Honduras, Black Lory from New Guinea, Mariqua Sunbird from South Africa, Humming Bird from Ecuador, Duvaugel's Trogon from North Borneo, Humming Bird from Tropical America, Black-Capped Lory, Zebra Finch from Australia, Humming Bird from Mexico, Phillippine Scarlet Sunbird, Humming Bird from Ecuador, Pied Bush Chat, Blue-Headed Waxbill, Humming Bird from California, Fire-Tailed Yellow-Backed Sunbird, and Laughing Kingfisher.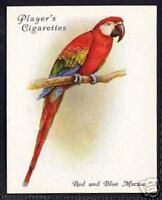 Name Of Set: Aviary And Cage Birds (Large)
Manufacturer: John Player and Sons
Issue Year: 1935
Card Number: 25
Card Titles: Norwich Canary, Dark Crested Norwich Canary, Yorkshire Canary, Yellow Cinnamon Canary, Border Fancy Canary, Lizard Canary, Lancashire Canary, Goldfinch-Canary Mule, Greenfinch-Bullfinch Hybrid, Goldfinch-Bullfinch Hybrid, Redpoll-Bullfinch Hybrid, Green Budgerigar, Blue Budgerigar, Yellow Budgerigar, Mauve Greywing Budgerigar, African Grey Parrot, Indian Ring Necked Parrakeet, Red Collard Lorikeet, Swainson's Lorikeet, Red and Blue Macaw, Red Headed Gouldian Finch, Superb Canager, Australian Crimson Finch, Nonpareil Grass Finch, and Parrot Finch.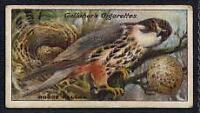 Name Of Set: Birds, Nests and Eggs
Manufacturer: Gallaher
Issue Year: 1919
Card Number: 100
Card Titles: Bullfinch, Robin, Grey Wagtail, Moorhen, Snipe, Dunlin, Kestrel, Grey Shrike, Green Woodpecker, Nuthatch, Wheatear, Skylark, Kingfisher, Wild Duck, Jay, Magpie, Starling, Great Tit, Barn Owl, Yellow Hammer, Sparrow Hawk, Blue Tit, Redstart, Cuckoo, Blackbird, Stonechat, Water Rail, Chaffinch,Willow Wren, Spotted Flycatcher, Common Wren, Missel-Thrush, Curlew, Common Tern, Blackcap Warbler, Golden Plover, Nightjar, Golden Crested Wren, Whitethroat, Tree Creeper, Crossbill,Hedge Sparrow, Partridge, Lapwing, Wryneck, Cirl Bunting, Quail, Fieldfare, Sand Martin, Pied Flycatcher, Woodlark, Whimbrel, Common Buzzard, Red Grouse, Song Thrush,Cormorant, Bearded Tit, Corn Bunting, Swallow, Sandwich Tern, Capercailie, Redshank, Corncrake, Greenfinch, Heron, Long-Tailed Tit, Common Gull, Puffin, Marsh Warbler, Merlin, Garden Warbler, Coot,Lesser Redpoll, Meadow Pippit, Siskin, Bittern, Brown Linnet, Great Crested Grebe, Red-Backed Shrike, Goldfinch, Rock Pipit, Carrion Crow, Woodcock, House Sparrow, Woodpigeon or Ringdove, Nightingale, Hobby Falcon, Ring-Ouzel, Pheasant, Kittiwake, Black-headed Gull, Jackdaw, Guilemont, Hawfinch, Whinchat, Yellow Wagtail, Dipper, Oyster Catcher ,Gannet, and Reed Bunting.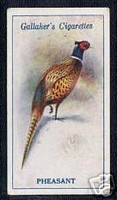 Name Of Set: British Birds By George Rankin
Manufacturer: Gallaher
Issue Year: 1923
Card Number: 100
Card Titles: Grasshopper Warbler, Garden Warbler, Hedge-Sparrow, Swift,Wryneck, Lesser Redpoll, Long-Tailed Tit, Great Tit, Stonechat, Whinchat, Redstart, Wheatear,Grey Wagtail, Starling, Spotted Flycatcher, Red-Backed Shrike, Reed Bunting, Tree Creeper, Yellow Wagtail, Sand Martin, Coal Tit, Marsh Tit, House Martin, Common Wren, Willow Wren, Wood-Pidgeon, Green Plover, Golden Plover, Reed Warbler, Tree Pipit, Oyster Catcher, Chiffchaff, Hooded Crow, Rook, Ringed Plover, Common Sandpiper, Hawfinch, Whitethroat, Pied Wagtail, Mistle Thistle, Skylark, Cuckoo, Sparrow-Hawk, Kite, House-Sparrow, Linnet, Magpie, Jay, Blackcap, Golden Crest, Chaffinch, Kingfisher,Little Grebe, Bearded Tit, Goldfinch, Blue Tit, Blackcock, Partridge, Ptarmigan, Barn Owl, Swallow, Herring Gull, Curlew, Common Gull, Nuthatch, Dipper, Mallard, Grouse, Golden Eagle, Sea Eagle, Song Thrush, Bullfinch, Lesser Black-Backed Gull, Snipe, Nightingale, Puffin, Raxorbill, Raven, Jackdaw, Great Crested Grebe, Storm-Petrel, Peregrine Falcon, Kestrel, Eider Duck, Nightjar, Landrail, Water-Rail, Rock-Pigeon, Heron, Stock-Dove, Hen-Harrier, Waterhen, Coot, Blackbird, Yellow Hammer, Pheasant, Redshank, Redbreast, Greenfinch, and Ring-Ousel.