Aircraft Cigarette Cards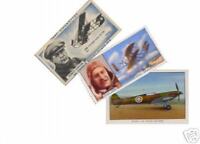 ---
The Wright brothers' first flight helped to catapult us into the modern age. For years mankind had gazed up at birds with envious eyes, watching their mastery of the skies. No doubt the birds mocked our early, futile attempts to conquer their world. The Wright brothers' victory over nature laid the foundations for new kinds of warfare, fast commercial flight and, ultimately, space travel.
Cigarette cards captured the rapid change that unfolded at the beginning of the twentieth century in full colour. At a time when books were still quite expensive, these encyclopaedic gems were invaluable educational tools for the information starved ordinary people, perhaps accelerating information democracy itself.
I've listed a small selection of cigarette card sets on aircraft below. I've provided scans of a sample card from each cigarette card set and I've tried to list as many cigarette card titles as possible for you.

Name Of Set: Aviation
Manufacturer: WD and HO Wills
Issue Year: 1910
Card Number: 50
Card Titles: Flying Ship, Montgolfier, First Baloon Flight in England, First Successful Crossing the Channel, First Parachute Display, First Diribible, First Successful Diribible, Rounding the Eiffel Tower by Santos Dumont, First British War Baloon, United States Military Dirigible, The Wellman Airship America, French Dirigibles, Modern British Army Dirigible, Ville de Paris, German Parseval Type, Italian Dirigible Italia, Spanish Torres Quevedo, German Military Dirigibles Gross Type, French Zodiac Type, Italian Military Dirigible, German Dirigible Clouth, French Military Dirigible Colonel Renard, German Zeppelin Type, French Dirigible Capazza, British Dirigible Clement Bayard, An Early Idea of Aviation, Besnier, Henson's Idea, Lilienthal Gliding Machine, Maxim, The Ader Flying Machine, Chanute, Santos Dumont's First Monoplane, Gastamabide and Mengin Monoplane, Wright Brothers Biplane, Professor Langley's Aerodrome, Voisin Type Biplane, Bleriot X1, The Antoinette Monoplane, The Windham Monoplane, Farman Biplane, The REP Monoplane, Silver Dart, Cody Biplane, Santos Dumont's Monoplane, Herring Curtiss, Jerme Biplane, Kimball, Rickman Hellicopter, and The First Lady Aviator.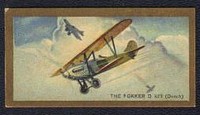 Name Of Set: Aeroplanes (Gilt Border)
Manufacturer: British American Tobacco
Issue Year: 1926
Card Number: 50
Card Titles: The De Havilland 9A, The Gloster Gamecock, The Blackburn Cubaroo, The Gloster Grebe, The Nieuport Delage 42 C1, The Boulton and Paul Bugle, The Fairey Fox, The Breguet X1X Biplane, The Fokker DX111, The Spad S51, The Nieuport Avion de Chasse, The Fairey Titania, The Blackburn Yelos Seaplane, The Farman 4 England Bomber, The Vickers Vanguard, The Avro Biplane, The Bernard Racer, The Armstrong-Whitworth Siskin, The Parnall Plover, The Avro Aldershot, The Hawker Woodcock, The Dewoitine Monoplane, The Fokker CIV Biplane, The Schneider Monoplane, The Avro Bison, The Douglas Biplane, The Curtiss Racing Seaplane, The Fairey Flycatcher, The Fokker F VII Monoplane, The De Havilland Moth, The Avia BH17 Biplane, The Fairey 111 D Seaplane, The Loening Flying Boat, The Vickers Virginia, The Dornier Wal Flying Boat, The Savola Twin Engine Flying Boat, The Savoia Flying Boat 16 tier, The Caproni Bomber, The Fokke Wulf Monoplane, The Three-Engined Junkers Monoplane, The Koolhoven FK 31, The Stout Pulman Monoplane, The Kingston Metal Hull Flying Boat, The Hawker Horsley, The Fiat CR Fighter, The Curtiss PWS Pursuit Plane, The Dewoitine Commercial Monoplane, The Bristol Fighter, The Boeing Pursuit Biplane, and The Potez XV.

Name Of Set: British Aeroplanes
Manufacturer: United Tobacco Companies
Issue Year: 1933
Card Number: 50
Card Titles: DH Puss Moth, Bristol Bulldog, Gloster Gnatsnapper, Siddeley Siskin, Hawker Horsley, Handley Page, Westland Wapiti, Sopwith Snipe, Martinsyde, Blackburn Lincock, Supermarine Rolls Royce S6, Saro Cutty Sark, Avro 626 Advanced Trainer, Westland Interceptor Fighter, R34, Armstrong Whitworth, Vickers Virginia, Hawker Hornet, Sopwith Baby Seaplane, Bristol Fighter, Fairey Fox, Blackburn Ripon, Parnall Pipit, Austin Whippet, R101, Hawker Fury, Vickers Viastra, Boulton and Paul Side-Strand, DH Hawk Moth, Armstrong Whitworth Atlas, Avro Ten, Short Valetta, Westland Wizard, Fairey Flycatcher, Vickers Type, Hawker Tomkit, Civilian Coupe, Airco 18-Seater, Short Gurnard, Comper Swift, Gloster VI, Hawker Osprey, Standard Kite, Avro Avian, Supermarine Southampton, DH Interceptor, Hawker Cygnet, Short 3-Engined Monoplane, Fairey IIIF, and Graham White.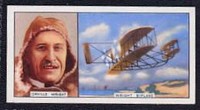 Name Of Set: Famous Airmen and Airwomen
Manufacturer: Carreras
Issue Year: 1936
Card Number: 50
Card Titles: Alberto Santos Dumont, Orville Wright, Dr. Hugo Eckener, Col. Samuel Franklin Cody., Louis Bleriot, Henri Farman, Claude Grahame-White, Adolphe Pegoud, Gustav Hamel, Sir Ross Macpherson Smith, Admiral Byrd USN, Richard Read Bentley, Herbert John Louis Hinkler, Sir Alan John Cobham, Lt. Owen Cathcart-Jones, Amundsen,Agello, W. Von Gronau, Lincoln Ellsworth, Captain T. Neville Stack, Mrs. Beryl Markham, Col. Chas. Augustus Lindbergh, Mrs. Harry Bonny, Clyde Pangborne, Amelia Earhart, CTP Ulm, Sir Chas Kingsford-Smith, Mary Lady Heath, Capt. James Doolittle, Henri Mignet, Flt. Lt. G. H. Stainforth, The Hon. Mrs. Victor Bruce, Capt. Charles Douglas Barnard, Mrs. J.A. Mollison, Kenneth Herbert Fraser Waller, General Italo Balbo, John Polando, James Allan Mollison, Wiley Post, M. Codos, Ft. Lt. Harry Methuen Schofield, Parmentier, Miss Jean Batten, Malcolm MacGregor, Harry Frank Broadbent, Flt. Lt. Thomas Rose, C.J. Melrose, Campbell Black, CWA Scott, and Harry Richman.

Name Of Set: Fighting and Civil Aircraft
Manufacturer: Ardath
Issue Year: 1936
Card Number: 25
Card Titles: Hawker Monoplane, Gloster Gladiator, Fairey Swordfish TSR, Hawker Hind, Hawker Super Fury, Bristol Britain First, Vickers Wellesley, Fairey Hendon, Armstrong Whitworth XXIII, Boulton Paul Overstrand, Handley Page Heyford, Avro Tutor, Supermarine Stranraer, Short Singapore III, Short Scion Senior, Boulton Paul Britomart, Avro 652, Handley Page Hannibal, Heston Phoenix, De Havilland Hornet Moth, British Pou-Du-Ciel, Miles Falcon, Percival Gull, Miles Sparrowhawk, and De Havilland Comet.


Name Of Set: International Air Liners
Manufacturer: John Player and Sons
Issue Year: 1936
Card Number: 50
Card Titles: Imperial Airways Empire Flying-Boat Caledonia, Imperial Airways Liner Dryad Diana Class, Imperial Airways Liner Ensign, Imperial Airways Liner Horatius Heracles, Imperial Airways Flying Boat Satyrus, Imperial Airways Liner Scylla, Preparing Lunch in Imperial Airways Liner Scylla, SABENA Fokker, SABENA Junkers, Sovoia Marchetti, CLS Fokker, Air France Dewoitine D333 Antares, Aire France Liore et Olivier, Air France Potez 62, Air France Wibault Penhoet 282 T 12, Deutshe Luft Hansa, Dornier Do.18 Flying Boat, Deutshe Luft Hansa Heinkel HE 70, Deutshe Luft Hansa Heinkel HE111, Deutsche Luft Hansa Jukers G38; Deutshe Luft Hansa, Junkers JU 86, Deutshe Luft Hansa Junkers JU 160, Deruluft ANT9, KLM Douglas DC2, KLM Fokker FXX, KLM Fokker FXXII, KLM Fokker F.XXXVI, MALERT Junkers JU 52/3M ALA Littoria Cant Z506 Seaplane, Ala Littoria Savoia Marchetti S74, AB Aerotransport Fokker FXII Varmland, Swissair Clark GA43, Swissair Douglas DC2, Swissair Jukers JU86, Swissair Lockheed Orion, Aeroput De Havilland Dragon Rapide, Aeroput Spartan Cruiser, American Airlines, Douglas DST, Braniff Airways Lockheed Electra, Central Airlines Stinson A, Delta Airlines Lockheed Electra, Eastern Airlines Douglas DC2, Eastern Airlines Lockheed Electra, Northwest Airlines Lockheed Electra, Pan American Airways Glenn Martin 130 Flying Boat China Clipper, Pan American Airways Main Aisle Clipper Class Flying Boat, Pennsylvania Airlines Boeing 247D, TWA Douglas DC2, United Airlines Douglas DC3, Qantas Empire Airways Liner Commonwealth Class, and Qantas Empire Airways Bridge of Common.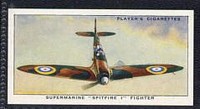 Name Of Set: Aircraft Of The Royal Air Force
Manufacturer: John Player and Sons
Issue Year: 1938
Card Number: 50
Card Titles: Airspeed Unmaned Radio-Controlled Target Aircraft, DH Queen Bee Radio-Controlled Target Aircraft, Airspeed Oxfor Advanced Training Aircraft, Avro Perfect Navigational Training Aircraft, Avro Tutor Training Aircraft, DH Tiger Moth Training Aircraft, Miles Magister Training Aircraft, Miles Unnamed Training Aircraft, Vickers Virginia Parachute Training Aircraft, Vickers Ventia Troop Carrier, Short Sunderland Flying Boat, Supermarine Scapa Flying Boat,Supermarine Stranraer Reconnaisance Flying Boat, Supermarine Walrus Amphibian, Vickers Vincent General Purpose Aircraft, Vickers Wellesley General Purpose Aircraft, Westland Wapiti General Purpose Aircraft, Avro Anson General Reconnaissance Aircraft, Fairey Swordfish Torpedo Spotter Reconnaissance Aircraft, Hawker Osprey IV Torpedo Spotter Reconnaissance Aircraft, Gloster Gauntlet Fighter, Gloster Gladiator Fighter, Gloster Unnamed Fighter, Hawker Demon Fighter, Hawker Demon I Turret Fighter, Hawker Fury Fighter, Hawker Hurricane Fighter, Supermarine Spitfire I Fighter, Saro London Flying Boat, Short Singapore III Flying Boat, Fairey Battle Bomber, Fairey Gordon Bomber, Fairey Hendon Bomber, Fairey Unnamed Bomber, Handley Page Hampden Bomber, Handley Page Harrow Bomber, Handley Page Heyford Bomber, Hawker Hind Bomber, Vickers Vildebeest Torpedo Bomber, Vickers Wellington I Bomber, The Airspeed Envoy of The King's Flight, Avro Rota Army Co-operation Autogiro Aircraft, Hawker Audax Army Aircraft,Hawker Hector Army Cooperation Aircraft, and Westland Lysander Army Cooperation Aircraft.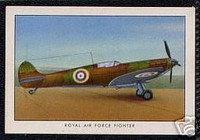 Name Of Set: Modern Airplanes, Series B
Manufacturer: Brown & Williamson Tobacco Corporation (USA) (Wings)
Issue Year: 1941
Card Number: 50
Card Titles: Piper Cub Trainer, Ercoupe 415C, Aeronca Chief, Stinson Reliant, Timm Trainer, Bellanca Cruisair, Gwinn Aircar, Monocoupe Zephyr, Cessna Twin, Grumman Widgeon, Lockheed Lodestar, Curtiss Transport, Primary Trainer, Primary Trainer, Primary Trainer, Combat Trainer, Pursuit, Pursuit, Interceptor, Pursuit Interceptor, Attack,Heavy Bomber, Dive-Bomber, Observation Scout, Fighter, Advanced Trainer, Reconnaissance, Heavy Bomber, Torpedo Bomber, Communication, Fighter, Heavy Bomber, Light Bomber, Fighter, Long Range Bomber, Flying Boat, Flying-boat, Transport, Airliner,Trainer, Seaplane, and Fighter.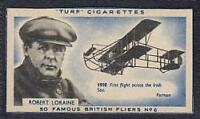 Name Of Set: Famous British Fliers
Manufacturer: Carreras
Issue Year: 1956
Card Number: 50
Card Titles: JTC Moore _Brabazon, AV Roe, Robert Blackburn, H Latham, Hon CS Rolls, Robert Loraine, Claude Grahame-White, Alec Oglive, James Velentine, SF Cody, BC Hucks, C Howard Pixton, Major E Mannock, Lt. W. Leefe Robinson, Major WG Barker, Major JB McCudden, HG Hawker, Sir John Alcock and Sir Arthur Whitten Brown, Captain FL Barnard, Sir Alan Cobham, Sir Charles Kingsford Smith, HJL Hinkler, AG Jones-Williams, HRD Waghorn, Amy Johnson, GH Stainforth, Jim Mollison, CTP Ulm, OR Gayford, GE Nicholetts, Geoffrey De Haviland, CWA Scott, T Campbell Black, HM Schofield, Tommy Rose, Jean Batten, MJ Adam, Alex Henshaw, Edgar J Kain, CJ Barton, GL Cheshire, Brendon Finucane, PC Pickard, AK Gatward, Captain EM Donaldson, Alan E Bristow, J Cunningham, John Derry, AJ Pegg, WF Gibb, Neville Duke, and Mike Lithgow.