1930's Movie Star Cigarette Cards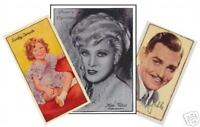 ---
Not everyone looked forward to the "talkies" (or sound film). Many actors and actresses who rose to stardom during the silent movie era were unable to make the transition to the "talkies", and tumbled into obscurity. John Gilbert's romantic appeal waned when his high-pitched voice was heard on the first sound films. Some movie stars were able to adapt, and some even thrived in the new era, including Joan Crawford, Gary Cooper, Greta Garbo, Laurel and Hardy... Charlie Chaplin was one of the few movie stars who seemed to be immune from the "talkies" as his career continued to soar, even though he continued to act in silent movies well into the 1930s. Although for many stars the "talkies" were "curtains", it also provided an opening for lots of new stars: Clark Gable, Mae West, Judy Garland, Shirley Temple, Errol Flynn, Cary Grant...
The tobacco manufacturers took advantage of cinema's popularity and produced numerous cigarette card sets on the topic. It would be impractical to list every film star card set issued and so I've made a small selection from the more unusual and rare movie star cigarette card sets that I've come across in my six years of dealing on eBay. I've provided scans of a sample card from each set and I've tried to list as many card titles as possible.
1930's Movie Card Sets
---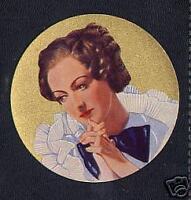 Name Of Set: Beauties of the Cinema (Circular)
Manufacturer: Rothmans
Issue Year: 1939
Card Number: 24
Movie Star Names: Sally Blane, Merle Oberon, Anna May Wong, Claudette Colbert, Joan Blondell, Heather Angel, Jean Harlow, Constance Bennett, Fay Wray, Gloria Stuart, Myrna Loy, Norma Shearer, Barbara Stanwyck, Loretta Young, Lupita Tovar, Kay Francis, Jessie Matthes, Anna Sten, Joan Crawford, Diana Wynyard, June Marlowe, Dorothy Gulliver, Mary Carlisle and Irene Dunne.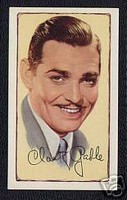 Name Of Set: Signed Portraits of Famous Stars
Manufacturer: Gallaher
Issue Year: 1935
Card Number: 48
Movie Star Names: Elizabeth Allan, Will Rogers, Una Merkel, Herbert Mundin, Madge Evans, Jean Hersholt, Greta Garbo, Leslie Fuller, Lionel Barrymore, Pat Paterson, Robert Montgomery, Myrna Loy, Clark Gable, Rochelle Hudson, Jackie Cooper, Siegfried Rumann, James Dunn, Edmund Lowe, John Boles, Warren William, Paul Muni, Douglas Fairbanks Junior, George Brent, Warner Baxter, Marlene Dietrich, Gertrude Lawrence, Bette Davis, Alice Faye, Carole Lombard, Rosemary Ames, Claire Trevor, Claire Trevor, Jane Baxter, Gary Cooper, Adrienne Ames, Virginia Bruce, Kay Francis, Bebe Daniels, Norma Shearer, Constance Cummings, Marian Marsh, Grete Natzler, Maureen O'Sullivan, Lewis Stone, Barbara Stanwyck, Wallace Beery, Janet Gaynor, Jean Harlow and Mae West.

Name Of Set: Film Stars (Large)
Manufacturer: John Player and Sons
Issue Year: 1934
Card Number: 25
Movie Star Names: Elizabeth Allan, Lionel Barrymore, Wallace Beery, Elisabeth Bergner, Joan Blondell, Joe E Brown, Bruce Cabot, Cicely Courtneidge, Constance Cummings, Frances Dee, Dolores del Rio, Marie Dressler, Irene Dunne, Kay Francis, Janet Gaynore, Katharine Hepburn, Jack Hulbert, Jeanette MacDonald, Jessie Matthews, Merle Oberon, George Raft, Anna Sten, Franchot Tone, Conrad Veidt and Mae West.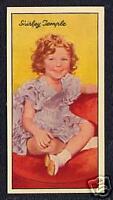 Name Of Set: Famous Film Stars
Manufacturer: Carreras
Issue Year: 1935
Card Number: 96
Movie Star Names: Una Merkel, Fay Wray, Janet Gaynor, Sylvia Sydney, Myrna Loy, Evelyn Laye, Anna May Wong, Raquel Torres, Carole Lombard, Nancy Carroll, Madge Evans, Ann Harding, Heather Angel, Marian Marsh, Sari Maritza, Marlene Dietrich, Lupe Velez, Jean Parker, Greta Garbo, Gloria Stuart, Ida Lupino, Adrienne Ames, Mae West, Ann Sothern, Loretta Young, Barbara Stanwyck, Dolores Del Rio, Evelyn Venable, Madeleine Carroll, Alice White, Joan Blondell, Thelma Todd, Sally Eilers, Joan Crawford, Margaret Sullavan, Anna Sten, Diana Wynyard, Genevieve Tobin, Miriam Hopkins, Kay Francis, Lilian Harvey, June Clyde, Constance Bennett, Shirley Temple, Marion Nixon, Pat Paterson, Irene Dunne, Jeanette Macdonald, Ann Dvorak, Elissa Landi, Joan Marsh, Frances Dee, Greta Nissen, Bebe Daniels, Zasu Pitts, Bette Davis, Benita Hume, Katharine Hepburn, Karen Morley, Mary Astor, Constance Cummings, Helen Twelvetrees, Ginger Rogers, Anna Neagle, Jean Harlow, Maureen O'Sullivan, Ruby Keeler, Claudette Colbert, Merle Oberon, Norma Shearer, Gloria Swanson, Margaret Lindsay, Robert Young, Robert Montgomery, Ramon Novarro, Leslie Howard, Clive Brook, Lionel Barrymore, Herbert Marshall, Wallace Beery, Charles Ruggles, William Powell, Maurice Chevalier, Cary Grant, Douglas Fairbanks, Gary Cooper, Charles Laughton, Clark Gable, Jackie Cooper, Lee Tracy, Johnny Weismuller in Tarzan, WC Fields, George Arliss, Ronald Colman, Douglas Montgomery, Laurel and Hardy

Name Of Set: Movie Stars
Manufacturer: Garbaty
Issue Year: 1934
Card Number: 300
Movie Star Names: Includes: Mae West, Joan Crawford, Greta Garbo, Katherine Hepburn, Carole Lombard...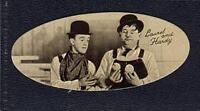 Name Of Set: Film Stars (Oval)
Manufacturer: Carreras
Issue Year: 1934
Card Number: 72
Movie Star Names: Fredric March, Clark Gable, Robert Montgomery, Carole Lombard, Genevieve Tobin, Ramon Novarro, Myrna Loy, Gordon Harker, Ruby Keeler, Edward G Robinson, Cicely Courtneidge, Conrad Veidt, Paul Lukas, Anna Neagle, Ruth Chatterton, Ralph Lynn and Tom Walls, Clive Brook, Douglas Fairbanks Jr, Wallace Beery, Joan Blondell, Jean Harlow, Jessie Matthews, Zasu Pitts, Ricardo Cortez, Jack Oakie, Lee Tracy, Gracie Fields, Constance Cummings, Sylvia Sidney, Greta Garbo, Claudette Colbert, Norma Shearer, Richard Dix, Charles Laughton, The Four Markx Brothers, Katharine Hepburn, Jeannette Macdonald, Loretta Young, Marlene Dietrich, Joan Crawford, Kay Francis, Sally Eilers, Gary Cooper, Elisabeth Bergner, Marie Dressler, George Raft, Madge Evans, Janet Gaynor, Maurice Chevalier, Leslie Howard, Sir Cedric Hardwicke, William Powell, Madeleine Carroll with Herbert Marshall, Lionel Barrymore, Heather Angel, Ida Lupino, Marion Davies, Jack Buchanan, Binnie Barnes, Ann Harding, Miriam Hopkins, Stanley Lupino, Lilian Harvey, Maureen O'Sullivan, Elissa Landi, Mae West, Laurel & Hardy, Jack Hulbert, Sydney Howard, Al Jolson, Ginger Rogers and John Gilbert.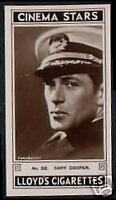 Name Of Set: Cinema Stars (28-54)
Manufacturer: Richard Lloyd and Sons
Issue Year: 1935
Card Number: 27
Movie Star Names: Clark Gable, Robert Montgomery, Maurice Chevalier, Herbert Marshall, Gary Cooper, David Manners, Norman Foster, Warner Baxter, Tom Keene, Chester Morris, Fredric March, Robert Young, Charles Ruggles, Miriam Hopkins, Greta Garbo, Norma Shearer, Joan Bennett, Loretta Young, Joan Crawford, Clara Bow, Jean Harlow, Janet Gaynor, Ann Harding, Norma Shearer, Marlene Dietrich, Elissa Landi and Marion Nixon.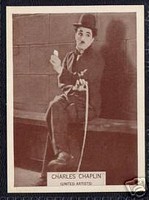 Name Of Set: Famous Film Stars (Aus Issue) (Medium)
Manufacturer: WD and HO Wills
Issue Year: 1933
Card Number: 100
Movie Star Names: Minna Gombell, Joan Marsh, Janet Gayner, Katharine Hepburn, Claudette Colbert, Kay Francis, Ann Harding, Marlene Dietrich, Marion Nixon, Joan Blondell, Irene Dunn, Constance Cummins, Sally Eilers, Gloria Stuart, Lilyan Tashman, Loretta Young, Sylvia Sidney, Zasu Pitts, Tala Birrell, Tallulah Bankhead, Nancy Carrol, Gloria Swanson, Joan Bennett, Miriam Hopkins, Gwili Andre, William Powell, Chas. Ruggles, Carole Lombard, Adolphe Menjou, Edna May Oliver, Eddie Cantor, Gary Cooper, Sidney Fox, Chas Farrell, Douglas Fairbanks, George O'Brien, Mitzi Green, Warner Baxter, Joe E Brown, Lili Damita, Cary Grant, Barbar Stanwyck, Richard Dix, Renate Muller, Winifred Shotter, Miriam Jordan, George Brent, Richard Arlen, Greta Nissen, Frederic March, Bette Davis, Lawrence Tibbett, Edmund Lowe, Jeanette Macdonald, John Boles, Lillian Harvey, Elissa Landi, Wynne Gibson, Evelyn Laye, George Raft, Clara Bow, Owen Nares, Mary Brough, Lupe Velez, Douglas Fairbanks Junior, Maurice Chevalier, Alison Skipworth, Roland Young, Constance Bennett, Harold Lloyd, Charles Chaplin, Joel McCrea, Joan Barry, Sari Maritza, Laurel & Hardy, Jack Hulbert, Charles Laughton, Paul Lukas, Sydney Howard, Herbert Marshall, Ronald Colman, Melvyn Douglas, Victor McLaglen, Hugh Wakefield, OP Heggie, Edna Best, Adrienne Allen, Cicely Courtneidge, Clive Brook, Gracie Fields, Ralph Lynn, Tom Walls, Jack Buchanan, Gertrude Lawrence, Judy Kelly, Angela Baddeley, Betty Stockfield, Leslie Howard, Madeleine Carroll and Ursula Jeans.

Name Of Set: Cinema Stars, 3rd Series
Manufacturer: WD and HO Wills
Issue Year: 1931
Card Number: 50
Movie Star & Movie Names: Victor McLaglen and Mona Maris in A Devil with Women, Conrad Nigel and Genevieve Tobin in A Lady Surrenders, Beatrice Lillie in Are You There, Ralph Forbes in Beau Ideal, Ricardo Cortez and Mary Astor in Behind Office Doors, Wallce Beery and John Mack Brown in Billy the Kid, Oliver Hardy and Stan Laurel, Laurel and Hardy, Ramon Novarro and Dorothy Jordan in Call of the Flesh, Fay Compton and Ian Hunter in Cape Forlorn, John Halliday - Mary Brian and Claude Allister in Captain Applejack, Fay Sray and Victor Varconi in Captain Thunder, Jack Whitling and Marian Nixon in College Lovers, Jean Colin and Charles Hickman in Compromising Daphne, Marie Ney - Madeleine Carroll and Sir Gerald Du Maurier in Escape, Buster Keaton in Forward March, Bessie Love in Good News, Freeman Wood and Clara Kimball Young in Kept Husbands, Snowdrop - Paul Whiteman and Sunny Jim in King of Jazz, Jeanette Loff and Stanley Smith in King of Jazz, Mary Duncan and Otis Skinner in Kismet, Loretta Young and David Manners in Kismet, Rod La Rocque and Norma Shearer in Let us be Gay, Joel McCrea and Will Rogers in Lightnin, Walt Disney and Micky Mouse, Jeanette Macdonald Reginald Denny and Alison Skipworth in Oh for a Man!, Grant Withers and Mary Astor in Other Men's Women, Robert Montgomery and Joan Crawford in Our Blushing Brides, Marie Dressler in Reducing, Polly Moran and Marie Dressler in Reducing, Lupe Velez and John Boles in Resurrection, Mary Lawlor and Richard Dix in Shooting Straight, and Lawrence Gray and Marillyn Miller in Sunny.